Fuel Gauge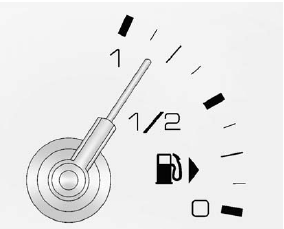 When the ignition is on, the fuel gauge indicates how much fuel is left in the tank.
An arrow on the fuel gauge indicates the side of the vehicle the fuel door is on.
The FUEL LEVEL LOW message appears in the Driver Information Center (DIC) and a single chime sounds. See Fuel System Messages for more information.
Normal operation of the fuel gauge includes:
- At the service station, the fuel pump shuts off before the gauge reads full.
- It takes a little more or less fuel to fill up than the gauge indicated.
- The gauge moves a little while turning a corner or speeding up.
- The gauge takes a few seconds to stabilize after the ignition is turned on, and goes back to empty when the ignition is turned off.
See also:
Cellular and GPS Antennas
Avoid placing items over or near the antenna to prevent blocking cellular and GPS signal reception. Cellular reception is required for OnStar to send remote signals to the vehicle. ...
TIRE LOW ADD AIR TO TIRE
On vehicles with the Tire Pressure Monitor System (TPMS), this message displays when the pressure in one or more of the vehicle's tires is low. This message also displays LEFT FRONT, RIGHT ...
On-Route
Select the On Route screen button to display all events ahead on the current active route. If no traffic events have been reported on route, No Traffic Events Reported On route displays. Name ...