Fuel Gauge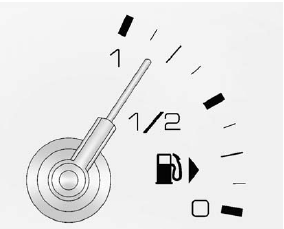 When the ignition is on, the fuel gauge indicates how much fuel is left in the tank.
An arrow on the fuel gauge indicates the side of the vehicle the fuel door is on.
The FUEL LEVEL LOW message appears in the Driver Information Center (DIC) and a single chime sounds. See Fuel System Messages for more information.
Normal operation of the fuel gauge includes:
- At the service station, the fuel pump shuts off before the gauge reads full.
- It takes a little more or less fuel to fill up than the gauge indicated.
- The gauge moves a little while turning a corner or speeding up.
- The gauge takes a few seconds to stabilize after the ignition is turned on, and goes back to empty when the ignition is turned off.
See also:
Navigation System
If the vehicle has a navigation system, use of the system may result in the storage of destinations, addresses, telephone numbers, and other trip information. Refer to the navigation manual for i ...
GM Mobility Reimbursement Program (U.S. and Canada)
This program is available to qualified applicants for cost reimbursement of eligible aftermarket adaptive equipment required for the vehicle, such as hand controls or a wheelchair/ scooter lift ...
When the System Does Not Seem to Work Properly
The rear vision camera system might not work properly or display a clear image if the following occurs: - It is dark. - The sun or the beam of headlamps is shining directly into the camera l ...