Fuel Gauge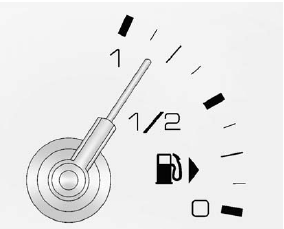 When the ignition is on, the fuel gauge indicates how much fuel is left in the tank.
An arrow on the fuel gauge indicates the side of the vehicle the fuel door is on.
The FUEL LEVEL LOW message appears in the Driver Information Center (DIC) and a single chime sounds. See Fuel System Messages for more information.
Normal operation of the fuel gauge includes:
- At the service station, the fuel pump shuts off before the gauge reads full.
- It takes a little more or less fuel to fill up than the gauge indicated.
- The gauge moves a little while turning a corner or speeding up.
- The gauge takes a few seconds to stabilize after the ignition is turned on, and goes back to empty when the ignition is turned off.
See also:
Headlamp High/Low-Beam Changer
Push the turn signal/lane change lever away from you and release, to turn the high beams on. To return to low beams, push the lever again or pull it toward you and release. This indicator lig ...
High-Beam On Light
The high–beam on light comes on when the high-beam headlamps are in use. See Headlamp High/Low-Beam Changer for more information. ...
MAXIMUM # ELECTRONIC KEYS LEARNED
If the vehicle has the keyless access system, this message displays when the maximum number of transmitters have been learned. See the Keyless Access information for Remote Keyless Entry ( ...