Steering Wheel Controls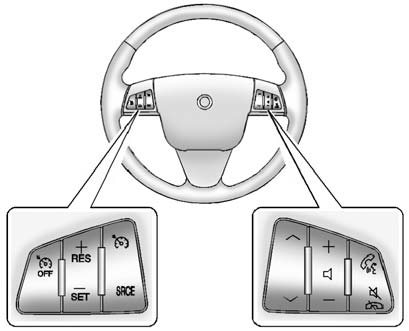 If available, some audio controls can be adjusted at the steering wheel.

or
: Press" width=18 height=16 id="_x0000_i1109" src="images/books/1183/1/index.80.gif" border=0>: Press

to select the next" width=21 height=17 id="_x0000_i1110" src="images/books/1183/1/index.81.gif" border=0>to select the next favorite radio station or next CD, DVD, if equipped, or MP3 track.
Press

to select the previous favorite radio station or previous CD, DVD, if equipped, or MP3 track.

: Press + to increase the volume, press − to decrease the volume.

Press to interact with the available Bluetooth, OnStar, or Navigation system.

Press to silence the vehicle speakers only. Press again to turn the sound on. For vehicles with OnStar or Bluetooth systems, press to reject an incoming call, or end a current call.
SRCE: Press to select an audio source.
For more information, see Steering Wheel Controls.
See also:
Object Detection System Messages
PARKING ASSIST BLOCKED SEE OWNERS MANUAL This message displays if there is something interfering with the park assist system. See Ultrasonic Parking Assist for more information. PARKIN ...
Halogen Bulbs
WARNING! Halogen bulbs have pressurized gas inside and can burst if you drop or scratch the bulb. You or others could be injured. Be sure to read and follow the instructions on the bulb pac ...
Engine Cover
A. Oil Fill Cap B. Engine Cover Bolt C. Engine Cover To remove: 1. Remove the oil fill cap (A). 2. Remove the engine cover bolt (B). 3. Raise the engine cover (C) to release from the ret ...