Folding Mirrors
Manual Folding Mirrors
Vehicles with manual fold mirrors are folded inward toward the vehicle to prevent damage when going through an automatic car wash.
Push the mirror outward to return it to the original position.
Power Folding Mirrors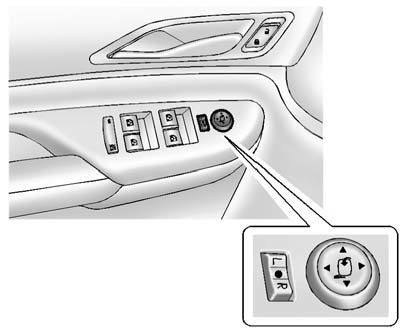 Vehicles with power folding mirrors, to fold the mirrors:
1. With the selector switch in the
position, press the down arrow on the" width=18 height=17 id="_x0000_i1182" src="images/books/1183/1/index.125.gif" border=0>position, press the down arrow on the control pad. Both mirrors will automatically fold.
2. Pressing the down arrow again will return the mirrors to their original position.
Resetting the Power Folding Mirrors
Reset the power folding mirrors if:
- The mirrors are accidentally obstructed while folding.
- They are accidentally manually folded/unfolded.
- The mirrors do not stay in the unfolded position.
- The mirrors vibrate at normal driving speeds.
Fold and unfold the mirrors one time using the mirror controls to reset them to their normal position.
A noise may be heard during the resetting of the power folding mirrors. This sound is normal after a manual folding operation.
See also:
Daytime Running Lamps (DRL)
Daytime Running Lamps (DRL) can make it easier for others to see the front of your vehicle during the day. Fully functional daytime running lamps are required on all vehicles first sold in Ca ...
California Proposition 65 Warning
Most motor vehicles, including this one, contain and/or emit chemicals known to the State of California to cause cancer and birth defects or other reproductive harm. Engine exhaust, many par ...
Hands-Free Calling
1. Push . System responds: "OnStar ready.". 2. Say "Dial." System responds: "Please say the name or number to call.". 3. Say the entire number without pausing, including a "1" and the area c ...