Folding Mirrors
Manual Folding Mirrors
Vehicles with manual fold mirrors are folded inward toward the vehicle to prevent damage when going through an automatic car wash.
Push the mirror outward to return it to the original position.
Power Folding Mirrors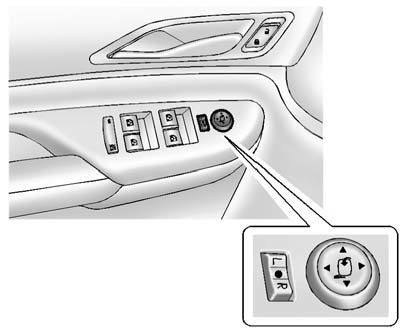 Vehicles with power folding mirrors, to fold the mirrors:
1. With the selector switch in the
position, press the down arrow on the" width=18 height=17 id="_x0000_i1182" src="images/books/1183/1/index.125.gif" border=0>position, press the down arrow on the control pad. Both mirrors will automatically fold.
2. Pressing the down arrow again will return the mirrors to their original position.
Resetting the Power Folding Mirrors
Reset the power folding mirrors if:
- The mirrors are accidentally obstructed while folding.
- They are accidentally manually folded/unfolded.
- The mirrors do not stay in the unfolded position.
- The mirrors vibrate at normal driving speeds.
Fold and unfold the mirrors one time using the mirror controls to reset them to their normal position.
A noise may be heard during the resetting of the power folding mirrors. This sound is normal after a manual folding operation.
See also:
Vehicle Personalization
Your vehicle may have customization capabilities that allow you to program certain features to one preferred setting. Customization features can only be programmed to one setting on the vehicle an ...
Cruise Control Light
The cruise control light is white whenever the cruise control is set, and turns green when the cruise control is active. The light turns off when the cruise control is turned off. See Cruise ...
Meet the Wedge
The CTS sedan's exterior is angular, but the new CTS coupe takes the design theme to a new level. There are creases everywhere, and while most meet and intersect to create a unique-looking coupe t ...