Folding Mirrors
Manual Folding Mirrors
Vehicles with manual fold mirrors are folded inward toward the vehicle to prevent damage when going through an automatic car wash.
Push the mirror outward to return it to the original position.
Power Folding Mirrors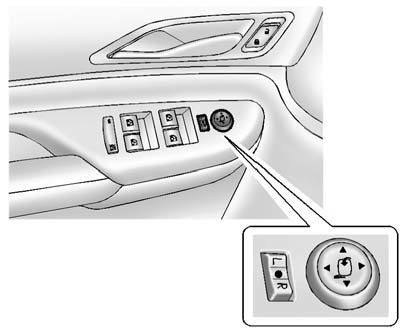 Vehicles with power folding mirrors, to fold the mirrors:
1. With the selector switch in the
position, press the down arrow on the" width=18 height=17 id="_x0000_i1182" src="images/books/1183/1/index.125.gif" border=0>position, press the down arrow on the control pad. Both mirrors will automatically fold.
2. Pressing the down arrow again will return the mirrors to their original position.
Resetting the Power Folding Mirrors
Reset the power folding mirrors if:
- The mirrors are accidentally obstructed while folding.
- They are accidentally manually folded/unfolded.
- The mirrors do not stay in the unfolded position.
- The mirrors vibrate at normal driving speeds.
Fold and unfold the mirrors one time using the mirror controls to reset them to their normal position.
A noise may be heard during the resetting of the power folding mirrors. This sound is normal after a manual folding operation.
See also:
Ignition Positions
The ignition switch has four different positions. To shift out of P (Park), the ignition must be in ON/RUN or ACC/ ACCESSORY and the regular brake pedal must be applied. A (STOPPING THE ENGINE/ ...
Windshield and Wiper Blades
Clean the outside of the windshield with glass cleaner. Clean rubber blades using lint-free cloth or paper towel soaked with windshield washer fluid or a mild detergent. Wash the windshield thoroug ...
Trans (Transmission) Temp (Temperature) (CTS-V Only)
This display shows the transmission fluid temperature in either degrees Celsius (°C) or degrees Fahrenheit (°F). ...