Anti-Pinch Feature
If an object is in the path of the sunroof when it is closing, the anti-pinch feature detects the object and stops the sunroof from closing at the point of the obstruction. The sunroof then returns to the full-open position.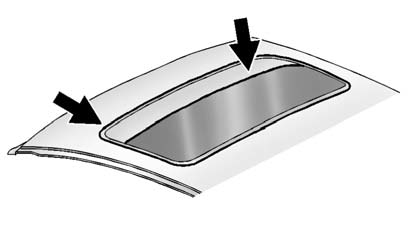 Dirt and debris may collect on the sunroof seal or in the track. This could cause an issue with sunroof operation, noise, or plugging the water drainage system. Periodically open the sunroof and remove any obstacles or loose debris. Wipe the sunroof seal and roof sealing area using a clean cloth, mild soap, and water. Do not remove grease from the sunroof.
See also:
Securing an Add-On Child Restraint in the Vehicle
WARNING A child can be seriously injured or killed in a crash if the child restraint is not properly secured in the vehicle. Secure the child restraint properly in the vehicle using the vehi ...
Protecting Exterior Bright Metal Parts
Regularly clean bright metal parts with water or chrome polish on chrome or stainless steel trim, if necessary. For aluminum, never use auto or chrome polish, steam, or caustic soap to clean. A c ...
Contacting Roadside Assistance
Roadside Assistance services are of no cost to you and available 24 hours a day, 365 days a year. Costs are only incurred in situations that exceed the limits of the program, some of which are lis ...