U-Rail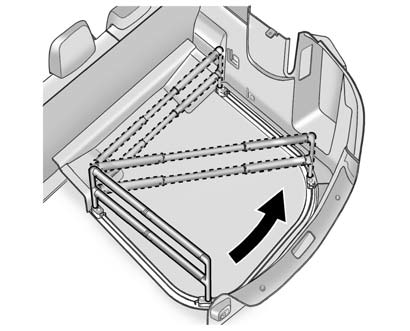 For vehicles with a u-rail system, the fence can be moved to different positions on the u-rail track to secure cargo.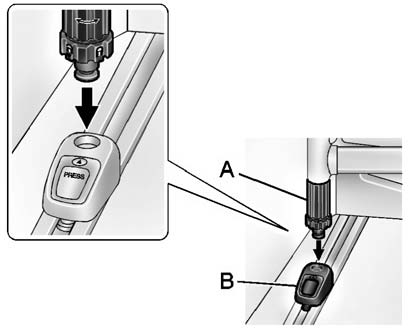 Push both adapter buttons to move the adapters (B) on the straight part of the u-rail.
To move the fence around the u-rail, disconnect one side:
1. Unlock by turning the latch (A) to align

with the arrow on the" width=18 height=20 id="_x0000_i1278" src="images/books/1183/1/index.41.gif" border=0>with the arrow on the adapter (B).
2. Push the adapter button to move the adapters (B) to the desired position.
3. Reinstall the fence and lock both latches (A) by turning to align

with the arrow on the adapter (B).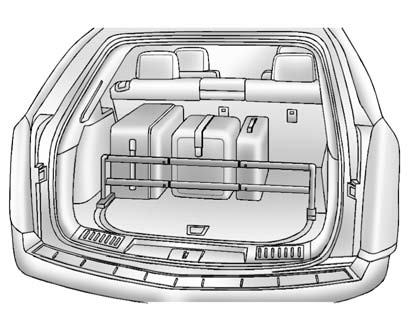 Use the fence to secure items in place.
See also:
Chassis and suspension
The Cadillac SRX has a four-wheel independent suspension system and a standard rack-and-pinion hydraulic steering system - and offers a variable-effort, speed-sensitive steering system - with tuni ...
Multi-Band Antenna
The multi-band antenna is on the roof of the vehicle. The antenna is used for the AM—FM radio, OnStar, the XM Satellite Radio Service System, and GPS (Global Positioning System), if the vehicle has ...
Ride & Handling
Our test CTS had the optional performance suspension, and the car felt as firm as one of the high-performance V-Series versions that Cadillac sells, with harsh, jarring responses over bumps. It's ...