Universal Remote System Programming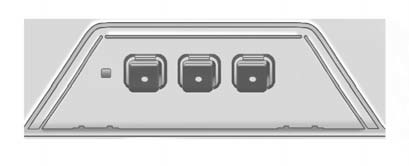 If the vehicle has this feature, you will see these buttons with one indicator light next to them in the overhead console.
This system provides a way to replace up to three remote control transmitters used to activate devices such as garage door openers, security systems, and home automation devices.
Do not use the Universal Remote system with any garage door opener that does not have the stop and reverse feature. This includes any garage door opener model manufactured before April 1,1982.
Read the instructions completely before attempting to program the Universal Remote system. Because of the steps involved, it may be helpful to have another person available to assist with programming the Universal Remote system.
Keep the original hand-held transmitter for use in other vehicles as well as for future Universal Remote system programming. It is also recommended that upon the sale of the vehicle, the programmed Universal Remote system buttons be erased for security purposes.
See "Erasing Universal Remote System Buttons" later in this section.
When programming a garage door, park outside of the garage.
Park directly in line with and facing the garage door opener motor-head or gate motor-head. Be sure that people and objects are clear of the garage door or gate being programmed.
It is recommended that a new battery be installed in the hand-held transmitter for quicker and more accurate transmission of the radio-frequency signal.
See also:
DVD Display Error Messages
The DVD display error message depends on which radio the vehicle has. The video screen may display one of the following: Disc Load/Eject Error or Mechanical Error: There are disc load or eject pr ...
Global Positioning System (GPS)
- Obstruction of the GPS can occur in a large city with tall buildings; in parking garages; around airports; in tunnels, underpasses, or parking garages; or in an area with very dense trees ...
Vehicle Reminder Messages
ICE POSSIBLE DRIVE WITH CARE This message is displayed when ice conditions are possible. TURN WIPER CONTROL TO INTERMITTENT FIRST This message is displayed when attempting to adjust the inter ...