Twilight Sentinel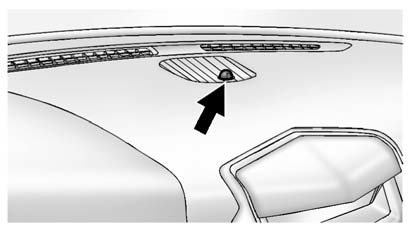 This feature automatically turns the lamps on and off. A light sensor on top of the instrument panel makes the Twilight Sentinel® work, so be sure it is not covered.
With Twilight Sentinel the following will happen:
- When it is dark enough outside, and the exterior lamp control is in the AUTO position, the Daytime Running Lamps (DRL) go off, and the headlamps and parking lamps come on.
The other lamps that come on with the headlamps also come on.
- When it is bright enough outside, the headlamps go off, and the DRL come on, as long as the exterior lamp control is in the AUTO position. See Exterior Lamp Controls.
If the vehicle is started in a dark garage, the automatic headlamp system comes on immediately.
If it is light outside when the vehicle leaves the garage, there is a slight delay before the automatic headlamp system changes to the DRL. During that delay, the instrument panel cluster may not be as bright as usual. Make sure the instrument panel brightness control is in full bright position.
See Instrument Panel Illumination Control for more information.
The vehicle can be idled with the lamps off, even when it is dark outside. After starting the vehicle, turn the exterior lamps control to off, then release it. The lamps will remain off until the control is turned to off again.
Twilight Sentinel also provides exterior illumination as you leave the vehicle. If Twilight Sentinel has turned on the lamps when the ignition is turned off, the lamps remain on until one of the following occurs:
- The exterior lamp control is moved from

to the parking lamp" width=17 height=16 id="_x0000_i1358" src="images/books/1183/3/index.98.gif" border=0>to the parking lamp position.
- The delay time selected has elapsed.
See Vehicle Personalization to select the delay time.
You can also select no delay time.
If the ignition is turned off with the exterior lamps control in the parking lamp or headlamp position, the Twilight Sentinel delay will not occur. The lamps will turn off as soon as the control is turned off.
The regular headlamp system should be turned on when needed.
See also:
Interior
The ESV's extended dimensions don't yield significant gains for first- or second-row occupants, but third-row passengers gain nearly 10 inches of legroom. Cargo volume behind the third row increas ...
ACCESSORY MODE ACTIVE
If the vehicle has the keyless access system, this message displays when the accessory mode is active. See Ignition Positions (Key Access) or Ignition Positions (Keyless Access) for more inf ...
Rear Seat Entertainment (RSE) System (Headrest DVD)
Vehicles with an RSE system include two head restraint video display screens with integrated DVD players, auxiliary inputs, two wireless headphones, and a remote control. This system works indepen ...