Turn and Lane-Change Signals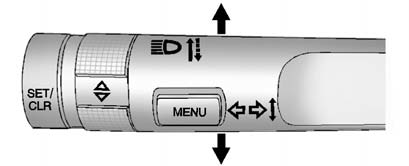 An arrow on the instrument panel cluster will flash in the direction of the turn or lane change.
Move the lever all the way up or down to signal a turn.
Raise or lower the lever until the arrow starts to flash to signal a lane change. The turn signal flashes three times.
The lever returns to its starting position when it is released.
If after signaling a turn or lane change the arrow flashes rapidly or does not come on, a signal bulb may be burned out.
Replace any burned out bulbs.
If the bulb is not burned out, check the fuse. See Fuses and Circuit Breakers for more information.
See also:
Securing Child Restraints (Rear Seat Position)
When securing a child restraint in a rear seating position, study the instructions that came with the child restraint to make sure it is compatible with this vehicle. If the child restraint has the ...
What Makes an Airbag Inflate?
In a deployment event, the sensing system sends an electrical signal triggering a release of gas from the inflator. Gas from the inflator fills the airbag causing the bag to break out of the ...
Adjustable Throttle and Brake Pedal
If the vehicle has this feature, the position of the throttle and brake pedals can be adjusted. The switch used to adjust the pedals is located on the right side of the steering column, below ...