Dolly Towing (Rear Wheels Off the Ground)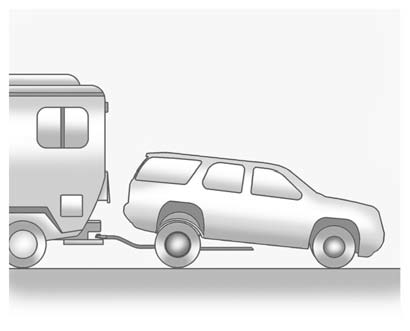 Use the following procedure to dinghy tow a two-wheel-drive vehicle from the rear:
1. Attach the dolly to the tow vehicle following the dolly manufacturer's instructions.
2. Drive the rear wheels onto the dolly.
3. Firmly set the parking brake. See Parking Brake .
4. Put the transmission in P (Park).
5. Secure the vehicle to the dolly following the manufacturer's instructions.
6. Use an adequate clamping device designed for towing to ensure that the front wheels are locked into the straight position.
7. Turn the ignition to LOCK/OFF.
See also:
Driving Characteristics and Towing Tips
WARNING! The driver can lose control when pulling a trailer if the correct equipment is not used or the vehicle is not driven properly. For example, if the trailer is too heavy, the brakes m ...
Extending Engine Run Time
To extend the engine run time by 10 minutes, repeat Steps 1 and 2 while the engine is still running. The engine run time can only be extended if it is the first remote start since the vehicle ...
Roadside Service (U.S. and Canada)
U.S.: 1-800-224-1400 Canada: 1-800-882-1112. Text Telephone (TTY) Users (U.S. Only): 1-888-889-2438. Service is available 24 hours a day, 365 days a year. Calling for Service When callin ...