Seat Position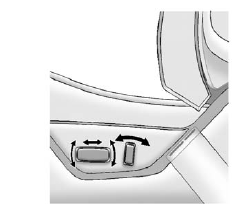 To adjust the seat:
- Move the seat forward or rearward by moving the horizontal control forward or rearward.
- Raise or lower the front or rear part of the seat cushion by moving the front or rear of the horizontal control up or down.
- Raise or lower the entire seat by moving the entire horizontal control up or down.
See Power Seat Adjustment.
Use the vertical control to adjust the seatback. See Reclining Seatbacks.
See also:
Total Weight on the Vehicle's Tires
Inflate the vehicle's tires to the upper limit for cold tires. These numbers can be found on the Certification label or see Vehicle Load Limits. Do not go over the GVW limit for the vehicl ...
Airbag System Messages
SERVICE AIR BAG This message displays if there is a problem with the airbag system. Have your dealer inspect the system for problems. See Airbag Readiness Light and Airbag System&nbsp ...
Time Shifting (Radio with CD/DVD and MEM)
The radio with MEM time shift feature can rewind 20 minutes of FM/AM content. While listening to the radio, the content from the current station is always being buffered. Press to pause the radio ...