Battery Replacement
Notice: When replacing the battery, do not touch any of the circuitry on the transmitter.
Static from your body could damage the transmitter.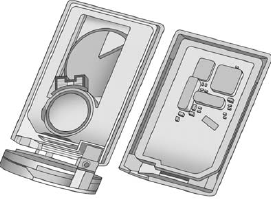 1. Remove the key from the transmitter by pressing the thin button near the bottom of the transmitter and pulling the key out. Do not pull the key out without pressing the button.
2. Separate the transmitter with a flat, thin object inserted into the slot on the side of the transmitter.
Do not try to separate the transmitter by inserting a flat, thin object into the key slot.
This will permanently damage the transmitter.
3. Remove the old battery. Do not use a metal object.
4. Insert the new battery, positive side facing down. Replace with a CR2032 or equivalent battery.
5. Snap the transmitter back together.
6. Reinstall the key into the transmitter.
See also:
Driving for Better Fuel Economy
Driving habits can affect fuel mileage. Here are some driving tips to get the best fuel economy possible. - Avoid fast starts and accelerate smoothly. - Brake gradually and avoid abrupt st ...
Repair Facility
GM also recommends that you choose a collision repair facility that meets your needs before you ever need collision repairs. Your dealer may have a collision repair center with GM-trained technici ...
When the System Does Not Seem to Work Properly
Occasional missed alerts can occur under normal circumstances and will increase in wet conditions. The system does not need to be serviced due to an occasional missed alert. The number of mis ...