Power Mirrors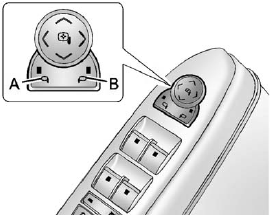 Controls for the outside power mirrors are on the driver door.
To adjust each mirror:
1. Press (A) or (B) to select the driver or passenger side mirror.
2. Press the arrows on the control pad to move the mirror up, down, right, or left.
3. Adjust each mirror so that a little of the vehicle and the area behind it can be seen.
4. Press (A) or (B) again to deselect the mirror.
See also:
Heated Steering Wheel
: Press to turn the heated steering wheel on or off. A light on the button displays when the feature is turned on. The steering wheel takes about three minutes to start heating. ...
Managing the Vehicle Damage Repair Process
In the event that the vehicle requires damage repairs, GM recommends that you take an active role in its repair. If you have a pre-determined repair facility of choice, take the vehicle ther ...
Tow/Haul Mode Light
For vehicles with the Tow/Haul Mode feature, this light comes on when the Tow/Haul Mode has been activated. For more information, see Tow/Haul Mode . ...