Seat Adjustment
WARNING!
You can lose control of the vehicle if you try to adjust a driver seat while the vehicle is moving.
The sudden movement could startle and confuse you, or make you push a pedal when you do not want to. Adjust the driver seat only when the vehicle is not moving.
To adjust a manual seat: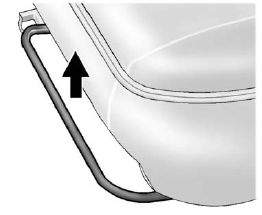 1. Lift the bar to unlock the seat.
2. Slide the seat to the desired position and release the bar.
3. Try to move the seat back and forth to be sure the seat is locked in place.
See also:
Checking Engine Oil
It is a good idea to check the engine oil level at each fuel fill. In order to get an accurate reading, the vehicle must be on level ground. The engine oil dipstick handle is a yellow loop. S ...
Environmental Concerns
Always use established trails, roads, and areas that have been set aside for public off-road recreational driving and obey all posted regulations. Do not damage shrubs, flowers, trees, or gras ...
Fuels in Foreign Countries
Never use leaded gasoline or any other fuel not recommended in the previous text on fuel. Costly repairs caused by use of improper fuel would not be covered by the vehicle warranty. To chec ...