Reclining Seatbacks
WARNING!
Sitting in a reclined position when the vehicle is in motion can be dangerous. Even when buckled up, the safety belts cannot do their job.
The shoulder belt will not be against your body. Instead, it will be in front of you. In a crash, you could go into it, receiving neck or other injuries.
The lap belt could go up over your abdomen. The belt forces would be there, not at your pelvic bones. This could cause serious internal injuries.
For proper protection when the vehicle is in motion, have the seatback upright. Then sit well back in the seat and wear the safety belt properly.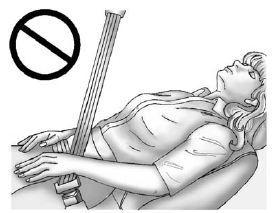 Do not have a seatback reclined if the vehicle is moving.
See also:
Off-Road Recovery
The vehicle's right wheels can drop off the edge of a road onto the shoulder while driving. Follow these tips: 1. Ease off the accelerator and then, if there is nothing in the way, steer t ...
Headphones
A. Battery cover B. Channel 1 or 2 switch C. Power button D. Volume control E. Power indicator light RSE includes two 2-channel wireless headphones. Channel 1 is dedicated to the DVD playe ...
Dolly Towing (All-Wheel-Drive Vehicles)
Notice: Towing an all-wheel-drive vehicle with all four wheels on the ground, or even with only two of its wheels on the ground, will damage drivetrain components. Do not tow an all-wheel-d ...