Power Reclining Seatbacks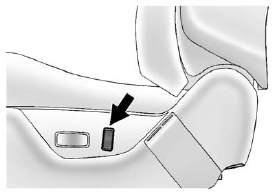 To adjust a power seatback, if equipped:
- Tilt the top of the vertical control rearward to recline.
- Tilt the top of the vertical control forward to raise.
See also:
Parking Assist
If the vehicle has the Ultrasonic Rear Parking Assist (URPA) system, this display allows the system to be turned on or off. Once in this display, press the set/reset button to select between ...
Where to Put the Restraint
According to accident statistics, children and infants are safer when properly restrained in a child restraint system or infant restraint system secured in a rear seating position. We recommend t ...
Brake System Warning Light
The vehicle brake system consists of two hydraulic circuits. If one circuit is not working, the remaining circuit can still work to stop the vehicle. For normal braking performance, both circuits ...