Wagon
To lower one or both of the rear seatbacks: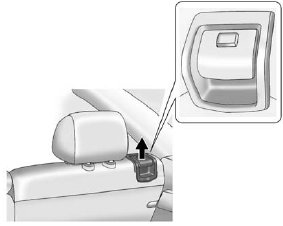 1. Pull on the lever, on the top outboard side of the seatback, to unlock the seatback.
2. Fold the seatback down.
To return a seatback to the upright position:
WARNING!
If either seatback is not locked, it could move forward in a sudden stop or crash. That could cause injury to the person sitting there.
Always push and pull on the seatbacks to be sure they are locked.
1. Lift the seatback up and push it back into place.
2. Make sure the seatback is locked into place by pushing and pulling on it.
3. Repeat Steps 1 and 2 for the other seatback.
When the seatback is not in use, it should be kept in the upright, locked position.
See also:
Blank Display
This display shows no information. ...
Cleaning the Video Screens
Use only a clean cloth dampened with clean water. Use care when touching or cleaning the screens as damage could result. ...
Repair Facility
GM also recommends that you choose a collision repair facility that meets your needs before you ever need collision repairs. Your dealer may have a collision repair center with GM-trained te ...