Wagon
To lower one or both of the rear seatbacks: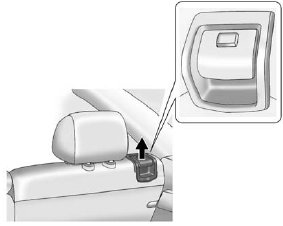 1. Pull on the lever, on the top outboard side of the seatback, to unlock the seatback.
2. Fold the seatback down.
To return a seatback to the upright position:
WARNING!
If either seatback is not locked, it could move forward in a sudden stop or crash. That could cause injury to the person sitting there.
Always push and pull on the seatbacks to be sure they are locked.
1. Lift the seatback up and push it back into place.
2. Make sure the seatback is locked into place by pushing and pulling on it.
3. Repeat Steps 1 and 2 for the other seatback.
When the seatback is not in use, it should be kept in the upright, locked position.
See also:
Traction Control System (TCS)/StabiliTrak® Light
The StabiliTrak or Traction Control System (TCS) indicator/warning light comes on briefly when the engine is started. If the light does not come on, have the vehicle serviced by your dealer. ...
Exit Lighting
The headlamps, taillamps, parking lamps, back-up lamps, and license plate lamps come on at night, or in areas with limited lighting, when the key is removed from the ignition. The dome lamps ...
Windshield Washer
WARNING! In freezing weather, do not use the washer until the windshield is warmed. Otherwise the washer fluid can form ice on the windshield, blocking your vision. ...