Why Safety Belts Work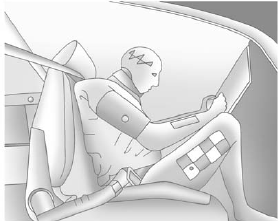 When riding in a vehicle, you travel as fast as the vehicle does. If the vehicle stops suddenly, you keep going until something stops you.
It could be the windshield, the instrument panel, or the safety belts! When you wear a safety belt, you and the vehicle slow down together.
There is more time to stop because you stop over a longer distance and, when worn properly, your strongest bones take the forces from the safety belts. That is why wearing safety belts makes such good sense.
See also:
Starter Switch Check
WARNING! When you are doing this inspection, the vehicle could move suddenly. If the vehicle moves, you or others could be injured. 1. Before starting this check, be sure there is enough r ...
If a Crash Occurs
If there has been an injury, call emergency services for help. Do not leave the scene of a crash until all matters have been taken care of. Move the vehicle only if its position puts you in d ...
Overview RSE Base System
Some DVDs do not allow fast forwarding or skipping of the copyright information or previews. If the DVD does not begin playing at the main title, refer to the on-screen instructions. The DVD play ...