Center Console Storage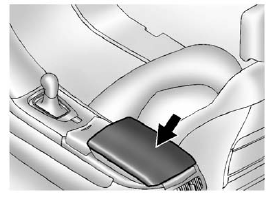 The center console has an upper and lower storage area. To access, lift the levers on either side of the center console. There is an additional storage area behind the center console. To access, push the cover.
See also:
Instrument Panel, Leather, Vinyl, and Other Plastic Surfaces
Use a soft microfiber cloth dampened with water to remove dust and loose dirt. For a more thorough cleaning, use a soft microfiber cloth dampened with a mild soap solution. Notice: Soaking ...
Interior Glass
To clean, use a terry cloth fabric dampened with water. Wipe droplets left behind with a clean dry cloth. Commercial glass cleaners may be used, if necessary, after cleaning the interior glas ...
Engine Oil Additives/Engine Oil Flushes
Do not add anything to the oil. The recommended oils with the dexos specification and displaying the dexos certification mark are all that is needed for good performance and engine protection. En ...