Cargo Cover (Wagon)
The cargo cover can be used to cover items in the cargo area.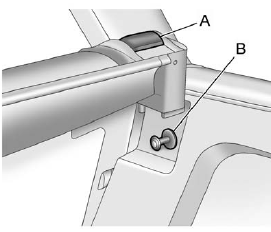 To install the cargo cover:
1. Hold the cartridge with the pull-out shade toward the rear of the vehicle.
2. Align the cartridge over the pin (B) on both sides. Press the cartridge down and turn it slightly forward until it clicks.
3. The cartridge is properly installed if it fits firmly when pulled and pushed.
4. Grasp the handle and unroll the cover. Latch the posts into the sockets.
To remove the cargo cover:
1. Release the cover from the latch posts and carefully roll it back up.
2. Pull the handle (A) back and remove it from the pin (B) on the trim panel. Repeat this on the other side.
WARNING!
An unsecured cargo cover could strike people in a sudden stop or turn, or in a crash. Store the cargo cover securely or remove it from the vehicle.
See also:
Comfort and convenience
One of the XLR's foremost convenience features is Keyless Access. Keyless Access makes XLR a truly "keyless" car. A driver can simply keep the fob in a pocket or purse to operate the doo ...
Weight of the Trailer
How heavy can a trailer safely be? It depends on how the rig is used. For example, speed, altitude, road grades, outside temperature and how much the vehicle is used to pull a trailer are all i ...
Front Fog Lamp Light
The front fog lamp light comes on when the fog lamps are in use. The light goes out when the fog lamps are turned off. See Fog Lamps for more information. ...