Cargo Cover (Wagon)
The cargo cover can be used to cover items in the cargo area.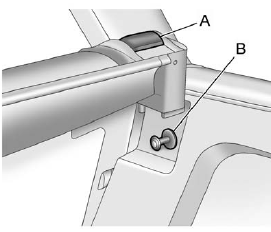 To install the cargo cover:
1. Hold the cartridge with the pull-out shade toward the rear of the vehicle.
2. Align the cartridge over the pin (B) on both sides. Press the cartridge down and turn it slightly forward until it clicks.
3. The cartridge is properly installed if it fits firmly when pulled and pushed.
4. Grasp the handle and unroll the cover. Latch the posts into the sockets.
To remove the cargo cover:
1. Release the cover from the latch posts and carefully roll it back up.
2. Pull the handle (A) back and remove it from the pin (B) on the trim panel. Repeat this on the other side.
WARNING!
An unsecured cargo cover could strike people in a sudden stop or turn, or in a crash. Store the cargo cover securely or remove it from the vehicle.
See also:
PRESS START CONTROL TO LEARN KEYS
If the vehicle has the keyless access system, this message displays when matching new transmitters to the vehicle. See the keyless access information for Remote Keyless Entry (RKE) System O ...
Defensive Driving
Defensive driving means "always expect the unexpected." The first step in driving defensively is to wear the safety belt. See Safety Belts . Assume that other road users (pedestrians, bicy ...
Vehicle Overview
Cadillac's Escalade ESV offers more room for those who find the Escalade, a full-size SUV, just a bit too small. Its wheelbase is 14 inches longer than the full-size Escalade, and its total length ...