Cargo Cover (Wagon)
The cargo cover can be used to cover items in the cargo area.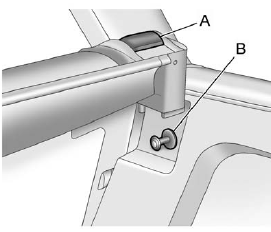 To install the cargo cover:
1. Hold the cartridge with the pull-out shade toward the rear of the vehicle.
2. Align the cartridge over the pin (B) on both sides. Press the cartridge down and turn it slightly forward until it clicks.
3. The cartridge is properly installed if it fits firmly when pulled and pushed.
4. Grasp the handle and unroll the cover. Latch the posts into the sockets.
To remove the cargo cover:
1. Release the cover from the latch posts and carefully roll it back up.
2. Pull the handle (A) back and remove it from the pin (B) on the trim panel. Repeat this on the other side.
WARNING!
An unsecured cargo cover could strike people in a sudden stop or turn, or in a crash. Store the cargo cover securely or remove it from the vehicle.
See also:
Automatic Dimming Mirror
The vehicle has an automatic dimming mirror. The driver outside mirror automatically adjusts for the glare of headlamps behind you. This feature is controlled by the on and off setting on the insi ...
Turning the System On and Off
The UFRPA system can be turned on and off by pressing the park assist button located next to the shift lever. The LED next to the park assist button lights up when the system is on and turns ...
Tires
Use a stiff brush with tire cleaner to clean the tires. Notice: Using petroleum-based tire dressing products on the vehicle may damage the paint finish and/or tires. When applying a tire dressing, ...