Automatic Headlamp System
When it is dark enough outside, the automatic headlamp system turns on the headlamps at the normal brightness, along with the taillamps, sidemarker, parking lamps, and the instrument panel lights. The radio lights will also be dim.
To turn off the automatic headlamp system, turn the exterior lamps switch to the off position and then release it.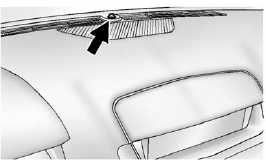 The vehicle has a light sensor located on the top of the instrument panel in the defroster grille which regulates when the automatic headlamps turn on. Do not cover the sensor, otherwise the headlamps will come on whenever the ignition is on.
The system may also turn on the headlamps when driving through a parking garage, heavy overcast weather, or a tunnel. This is normal.
If the vehicle is started in a dark garage, the automatic headlamp system will come on immediately.
Once the vehicle leaves the garage, it takes approximately one minute for the automatic headlamp system to change if it is bright enough outside. During that delay, the instrument panel cluster may not be as bright as usual. Make sure the instrument panel brightness control is in the full bright position.
See Instrument Panel Illumination Control.
To idle the vehicle with the automatic headlamp system off, turn the control to the off position.
The headlamps will also stay on after you exit the vehicle.
This feature can be programmed using the Driver Information Center (DIC). See Vehicle Personalization.
The regular headlamp system can be turned on when needed.
See also:
Traction Control System (TCS)
The vehicle has a Traction Control System (TCS) that limits wheel spin. This is especially useful in slippery road conditions. On a rear-wheel-drive vehicle, the system operates if it senses ...
Programming the Universal Remote System
For questions or help programming the Universal Remote system, call 1-800-355-3515 or go to www.homelink.com. Programming a garage door opener involves time-sensitive actions, so read the entire ...
Storing the Fe
1. Lift the cargo management system cover. 2. Release the cover from the prop rod as described in the previous steps. 3. Insert the top of the fence into the lower two clips (A). 4. Turn the ...