Automatic Headlamp System
When it is dark enough outside, the automatic headlamp system turns on the headlamps at the normal brightness, along with the taillamps, sidemarker, parking lamps, and the instrument panel lights. The radio lights will also be dim.
To turn off the automatic headlamp system, turn the exterior lamps switch to the off position and then release it.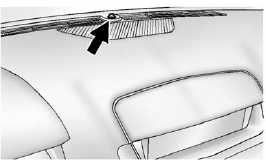 The vehicle has a light sensor located on the top of the instrument panel in the defroster grille which regulates when the automatic headlamps turn on. Do not cover the sensor, otherwise the headlamps will come on whenever the ignition is on.
The system may also turn on the headlamps when driving through a parking garage, heavy overcast weather, or a tunnel. This is normal.
If the vehicle is started in a dark garage, the automatic headlamp system will come on immediately.
Once the vehicle leaves the garage, it takes approximately one minute for the automatic headlamp system to change if it is bright enough outside. During that delay, the instrument panel cluster may not be as bright as usual. Make sure the instrument panel brightness control is in the full bright position.
See Instrument Panel Illumination Control.
To idle the vehicle with the automatic headlamp system off, turn the control to the off position.
The headlamps will also stay on after you exit the vehicle.
This feature can be programmed using the Driver Information Center (DIC). See Vehicle Personalization.
The regular headlamp system can be turned on when needed.
See also:
Danger, Warnings, and Cautions
Warning messages found on vehicle labels and in this manual describe hazards and what to do to avoid or reduce them. Danger indicates a hazard with a high level of risk which will result in ...
Services Specific to Canadian-Purchased Vehicles
- Fuel Delivery: Reimbursement is approximately $5 Canadian. Diesel fuel delivery may be restricted. Propane and other fuels are not provided through this service. - Lock-Out Service: Vehicl ...
When the System Does Not Seem To Work Properly
Missed alerts can occur under normal circumstances and will increase in wet conditions. The system does not need to be serviced. SBZA is designed to ignore stationary objects; however, the system ...