Adding Coolant to the Intercooler System Coolant (CTS-V)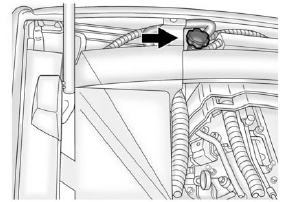 1. Remove the intercooler system pressure cap when the intercooler system hoses are no longer hot. Turn the pressure cap slowly counterclockwise about one-quarter of a turn.
If you hear a hiss, wait for that to stop. This allows any pressure still left to be vented.
2. Keep turning the pressure cap slowly and remove it.
3. Add the proper DEX-COOL coolant mixture to the fill neck until the coolant is within the cold fill region.
With the intercooler system pressure cap off, start the engine and let it run for a couple of minutes. Then turn the engine off. By this time, the coolant level inside the fill neck may be lower. If the level drops where coolant is no longer within the cold fill region of the fill neck with the engine off, add more of the DEX-COOL coolant mixture to the fill neck until the level is again visible in the cold fill region.
4. Replace the pressure cap.
Be sure the pressure cap is hand-tight and fully seated.
Notice: If the pressure cap is not tightly installed, coolant loss and possible engine damage may occur. Be sure the cap is properly and tightly secured.
If the coolant is not at the proper level when the system cools down again, see your dealer.
See also:
If the Vehicle Is Stuck
Slowly and cautiously spin the wheels to free the vehicle when stuck in sand, mud, ice, or snow. If stuck too severely for the traction system to free the vehicle, turn the traction system off an ...
Automatic EPB Release
The EPB will automatically release if the vehicle is running, placed into gear, and an attempt is made to drive away. Avoid rapid acceleration when the EPB is applied, to preserve parking brake lini ...
Weight-Distributing Hitch Adjustment
A. Body to Ground Distance B. Front of Vehicle When using a weight-distributing hitch, the spring bars should be adjusted so the distance (A) is the same after coupling the trailer to the tow ve ...