Adding Coolant to the Intercooler System Coolant (CTS-V)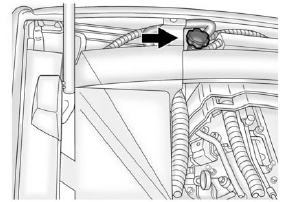 1. Remove the intercooler system pressure cap when the intercooler system hoses are no longer hot. Turn the pressure cap slowly counterclockwise about one-quarter of a turn.
If you hear a hiss, wait for that to stop. This allows any pressure still left to be vented.
2. Keep turning the pressure cap slowly and remove it.
3. Add the proper DEX-COOL coolant mixture to the fill neck until the coolant is within the cold fill region.
With the intercooler system pressure cap off, start the engine and let it run for a couple of minutes. Then turn the engine off. By this time, the coolant level inside the fill neck may be lower. If the level drops where coolant is no longer within the cold fill region of the fill neck with the engine off, add more of the DEX-COOL coolant mixture to the fill neck until the level is again visible in the cold fill region.
4. Replace the pressure cap.
Be sure the pressure cap is hand-tight and fully seated.
Notice: If the pressure cap is not tightly installed, coolant loss and possible engine damage may occur. Be sure the cap is properly and tightly secured.
If the coolant is not at the proper level when the system cools down again, see your dealer.
See also:
Average Fuel Economy or Average Fuel Economy and Instantaneous Fuel Economy
The Average Fuel Economy display shows the approximate average liters per 100 kilometers (L/100 km) or miles per gallon (mpg). This number is calculated based on the number of L/100 km (mpg) recorde ...
When to Check and Change Lubricant
It is not necessary to regularly check front axle fluid unless there is a leak suspected or an unusual noise is heard. A fluid loss could indicate a problem. Have it inspected and repaired. ...
Following Distance
Stay at least twice as far behind the vehicle ahead as you would when driving the vehicle without a trailer. This can help to avoid heavy braking and sudden turns. ...