Fog Lamps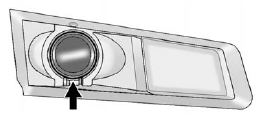 To replace a front fog lamp bulb:
1. Pull out the push-pins located on the underside of the protection shield to remove the shield.
2. Reach up behind the front bumper area from under the vehicle to access the lamp housing.
3. Remove the electrical connector from the bulb by lifting the two plastic clips.
4. Remove the bulb socket from the lamp housing by turning the bulb socket one-quarter turn counterclockwise.
5. Pull the old bulb from the lamp housing keeping the bulb straight as you pull it out.
6. Install a new bulb.
7. Reinstall the electrical connector by pushing in the two plastic clips.
8. Push the bulb socket into the lamp housing and turn the socket one–quarter turn clockwise.
See also:
Electric Brake Control Wiring Provisions
These wiring provisions are included with the vehicle as part of the trailer wiring package. These provisions are for an electric brake controller. The instrument panel contains blunt cut wires ne ...
Used Cadillac CTS-V Models
The current CTS-V represents the model's second generation and was introduced for 2009. It has received no significant changes since then. Produced from 2004-'07, the first-generation Cadillac CTS ...
Airbag System Check
The airbag system does not need regularly scheduled maintenance or replacement. Make sure the airbag readiness light is working. See Airbag Readiness Light. Notice: If an airbag covering is ...