Fog Lamps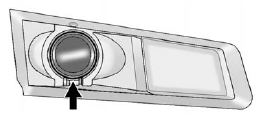 To replace a front fog lamp bulb:
1. Pull out the push-pins located on the underside of the protection shield to remove the shield.
2. Reach up behind the front bumper area from under the vehicle to access the lamp housing.
3. Remove the electrical connector from the bulb by lifting the two plastic clips.
4. Remove the bulb socket from the lamp housing by turning the bulb socket one-quarter turn counterclockwise.
5. Pull the old bulb from the lamp housing keeping the bulb straight as you pull it out.
6. Install a new bulb.
7. Reinstall the electrical connector by pushing in the two plastic clips.
8. Push the bulb socket into the lamp housing and turn the socket one–quarter turn clockwise.
See also:
Connections
OnStar Hands-Free Calling allows calls to be made and received from the vehicle. The vehicle can also be controlled from a cell phone through the OnStar RemoteLink mobile app. See www.onstar.com f ...
Roadside Service (U.S. and Canada)
U.S.: 1-800-224-1400 Canada: 1-800-882-1112. Text Telephone (TTY) Users (U.S. Only): 1-888-889-2438. Service is available 24 hours a day, 365 days a year. ...
Treadwear 200 Traction AA Temperature A
The following information relates to the system developed by the United States National Highway Traffic Safety Administration (NHTSA), which grades tires by treadwear, traction, and temper ...