Fog Lamps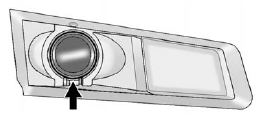 To replace a front fog lamp bulb:
1. Pull out the push-pins located on the underside of the protection shield to remove the shield.
2. Reach up behind the front bumper area from under the vehicle to access the lamp housing.
3. Remove the electrical connector from the bulb by lifting the two plastic clips.
4. Remove the bulb socket from the lamp housing by turning the bulb socket one-quarter turn counterclockwise.
5. Pull the old bulb from the lamp housing keeping the bulb straight as you pull it out.
6. Install a new bulb.
7. Reinstall the electrical connector by pushing in the two plastic clips.
8. Push the bulb socket into the lamp housing and turn the socket one–quarter turn clockwise.
See also:
Window Lockout
This feature prevents the rear passenger windows from operating, except from the driver position. Press to activate the rear window locks. An indicator light will illuminate when the featu ...
Overload
If the windows are repeatedly operated within a short time, the window operation is disabled for a short time. ...
Safety Locks (Sedan and Wagon)
The vehicle has rear door security locks. These prevent passengers from opening the rear doors from the inside. Lock Label shown The rear door security locks are located on the inside edge ...