Remote Keyless Entry (RKE) System
The Remote Keyless Entry (RKE) transmitter is used to lock and unlock the doors from up to 60m (195 ft) away from the vehicle.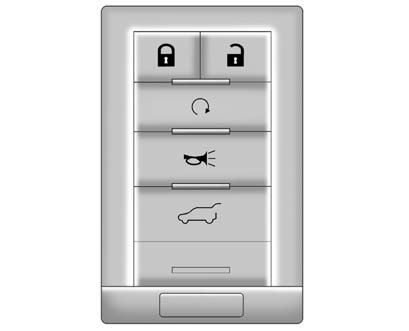 : Press to unlock the driver door or all doors depending on the vehicle personalization settings.

: Press to lock all doors.
Lock and unlock feedback can be personalized. See Vehicle Personalization.

Press and hold to open or close the liftgate.

Press and release to locate the vehicle.
Press and hold
for three seconds to sound the panic" width=27 height=19 id="_x0000_i1059" src="images/books/1183/1/index.37.gif" border=0>for three seconds to sound the panic alarm.
Press

again or start the vehicle to cancel the panic alarm.
See also:
Cadillac Owner Privileges™
Emergency Fuel Delivery: Delivery of enough fuel for the vehicle to get to the nearest service station. Lock-Out Service: Service to unlock the vehicle if you are locked out. A remote unloc ...
Driving on Snow or Ice
Drive carefully when there is snow or ice between the tires and the road, creating less traction or grip. Wet ice can occur at about 0°C (32°F) when freezing rain begins to fall, resulting in even ...
Lateral Acceleration (CTS-V Only)
Lateral Acceleration measures the force of a turn or corner. For example, when turning right, it forces to the left. This gauge displays the "g" force from 0.0 g to 2.0 g. ...