Fog Lamps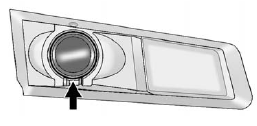 To replace a front fog lamp bulb:
1. Pull out the push-pins located on the underside of the protection shield to remove the shield.
2. Reach up behind the front bumper area from under the vehicle to access the lamp housing.
3. Remove the electrical connector from the bulb by lifting the two plastic clips.
4. Remove the bulb socket from the lamp housing by turning the bulb socket one-quarter turn counterclockwise.
5. Pull the old bulb from the lamp housing keeping the bulb straight as you pull it out.
6. Install a new bulb.
7. Reinstall the electrical connector by pushing in the two plastic clips.
8. Push the bulb socket into the lamp housing and turn the socket one–quarter turn clockwise.
See also:
Different Size Tires and Wheels
If wheels or tires are installed that are a different size than the original equipment wheels and tires, vehicle performance, including its braking, ride and handling characteristics, stability, and ...
Cleaning Exterior Lamps/ Lenses and Emblems
Use only lukewarm or cold water, a soft cloth, and a car washing soap to clean exterior lamps and lenses. Follow instructions under "Washing the Vehicle" later in this section. ...
Battery Replacement
Notice: When replacing the battery, do not touch any of the circuitry on the transmitter. Static from your body could damage the transmitter. Replace the battery if the REPLACE BATTERY IN REMOT ...