Fog Lamps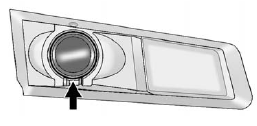 To replace a front fog lamp bulb:
1. Pull out the push-pins located on the underside of the protection shield to remove the shield.
2. Reach up behind the front bumper area from under the vehicle to access the lamp housing.
3. Remove the electrical connector from the bulb by lifting the two plastic clips.
4. Remove the bulb socket from the lamp housing by turning the bulb socket one-quarter turn counterclockwise.
5. Pull the old bulb from the lamp housing keeping the bulb straight as you pull it out.
6. Install a new bulb.
7. Reinstall the electrical connector by pushing in the two plastic clips.
8. Push the bulb socket into the lamp housing and turn the socket one–quarter turn clockwise.
See also:
Keyless Locking
The doors lock after several seconds if all doors are closed and at least one keyless access transmitter has been removed from the interior of the vehicle. To customize if the doors automat ...
Cargo Tie-Downs
For vehicles equipped with cargo tie—downs, the four tie-downs are located in the rear compartment of the vehicle. Use the tie-downs to secure small loads. ...
Hydroplaning
Hydroplaning is dangerous. Water can build up under the vehicle's tires so they actually ride on the water. This can happen if the road is wet enough and you are going fast enough. When the ve ...