Fog Lamps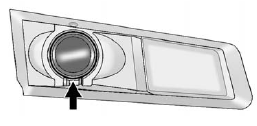 To replace a front fog lamp bulb:
1. Pull out the push-pins located on the underside of the protection shield to remove the shield.
2. Reach up behind the front bumper area from under the vehicle to access the lamp housing.
3. Remove the electrical connector from the bulb by lifting the two plastic clips.
4. Remove the bulb socket from the lamp housing by turning the bulb socket one-quarter turn counterclockwise.
5. Pull the old bulb from the lamp housing keeping the bulb straight as you pull it out.
6. Install a new bulb.
7. Reinstall the electrical connector by pushing in the two plastic clips.
8. Push the bulb socket into the lamp housing and turn the socket one–quarter turn clockwise.
See also:
Selecting a Band
Press the RADIO/BAND button to choose AM, FM, or XM, if equipped. The last station that was playing starts playing again. ...
Brake Adjustment
Every time the brakes are applied, with or without the vehicle moving, the brakes adjust for wear. ...
Driver Information Center (DIC)
The DIC display is located at the bottom of the instrument panel cluster. It shows the status of many vehicle systems and enables access to the personalization menu. The DIC buttons are loc ...