Safety Locks
The vehicle has rear door security locks to prevent passengers from opening the rear doors from the inside.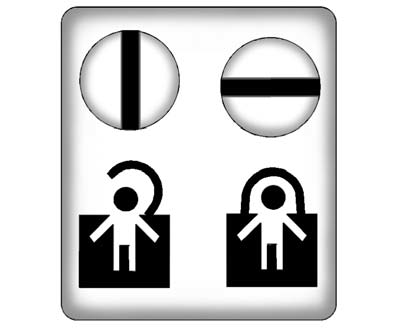 Open the rear doors to access the security locks on the inside edge of each door.
To set the locks, insert a key into the slot and turn it to the horizontal position. The door can only be opened from the outside with the door unlocked. To return the door to normal operation, turn the slot to the vertical position.
See also:
Airbag System Messages
SERVICE AIR BAG This message displays if there is a problem with the airbag system. Have your dealer inspect the system for problems. See Airbag Readiness Light and Airbag System&nbsp ...
Obstacle Detection Feature
The Obstacle Detection Feature is part of the express-up feature and is active: - In the middle and upper portions of the window opening. - During window up movements. - In ignition OFF during a ...
Bulb Replacement
For the proper type of replacement bulbs, see Replacement Bulbs. For any bulb changing procedure not listed in this section, contact your dealer. ...