How the System Works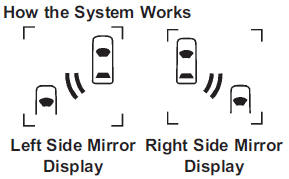 When the vehicle is started, both outside mirror displays will briefly come on to indicate that the system is operating. While driving forward, the left or right side mirror SBZA display will light up if a vehicle is detected in that blind zone. If you activate a turn signal and a vehicle has been detected on the same side, the SBZA display will flash to give you extra warning not to change lanes.
At speeds less than 32 km/h (20 mph), SBZA displays may not come on when approaching or passing other vehicles. SBZA displays may come on when a vehicle you have passed remains in or drops back into the detection zone for more than two seconds.
SBZA can be disabled through the Driver Information Center (DIC).
See Driver Information Center (DIC) for more information.
If the SBZA is disabled by the driver, the SBZA mirror displays will not light up during normal driving.