Cruise Control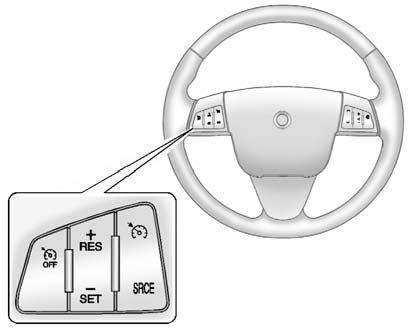 Press to turn cruise control on and off.
+ RES: Press briefly to make the vehicle resume to a previously set speed or press and hold to accelerate.
−SET: Press to set the speed and activate cruise control or make the vehicle decelerate.

OFF: Press to disengage cruise control without erasing the set speed from memory.
See Cruise Control.
See also:
XM™ Satellite Radio Service
XM Satellite Radio Service gives digital radio reception from coast to coast in the 48 contiguous United States, and in Canada. Just as with FM, tall buildings or hills can interfere with sa ...
Cooling System
The cooling system allows the engine to maintain the correct working temperature. When it is safe to lift the hood: A. Electric Engine Cooling Fan(s) (Out of View) B. Coolant Surge Tank and ...
Capacities and Specifications
Engine Specifications ...