Top Tether Anchor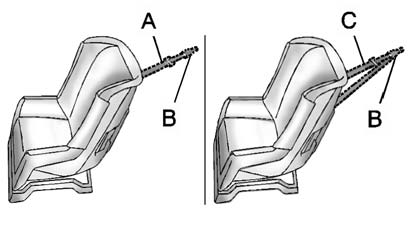 A top tether (A, C) anchors the top of the child restraint to the vehicle. A top tether anchor is built into the vehicle. The top tether attachment (B) on the child restraint connects to the top tether anchor in the vehicle in order to reduce the forward movement and rotation of the child restraint during driving or in a crash.
Your child restraint may have a single tether (A) or a dual tether (C). Either will have a single attachment (B) to secure the top tether to the anchor.
Some child restraints that have a top tether are designed for use with or without the top tether being attached. Others require the top tether always to be attached.
In Canada, the law requires that forward-facing child restraints have a top tether, and that the tether be attached. Be sure to read and follow the instructions for your child restraint.
See also:
Brake Assist (Except CTS-V)
This vehicle has a brake assist feature designed to assist the driver in stopping or decreasing vehicle speed in emergency driving conditions. This feature uses the stability system hydrauli ...
Maintenance
Passenger Compartment Air Filter The passenger compartment air filter traps most of the dust and pollen from the air entering the vehicle. The filter will need to be changed periodically. S ...
Interior Care
To prevent dirt particle abrasions, regularly clean the vehicle's interior. Immediately remove any soils. Note that newspapers or dark garments that can transfer color to home furnishings can also ...