Lower Anchor and Top Tether Anchor Locations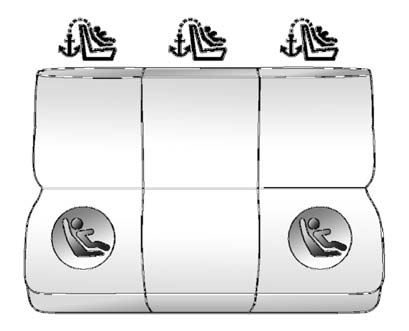 " width=409 height=331 id="_x0000_i1243" src="images/books/1183/2/index.86.gif" border=0>
Rear Seat

(Top Tether Anchor): Seating positions with top tether anchors.

(Lower Anchor): Seating positions with two lower anchors.

To assist you in locating the lower anchors, each seating position with lower anchors has two labels, near the crease between the seatback and the seat cushion.

To assist you in locating the top tether anchors, the top tether anchor symbol is located on the cover.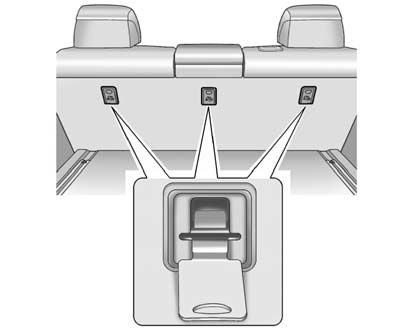 " width=409 height=331 id="_x0000_i1248" src="images/books/1183/2/index.91.gif" border=0>
Top Tether An
The top tether anchors for each rear seating position are located under the covers, on the back of the rear seatback. Be sure to use an anchor located on the same side of the vehicle as the seating position where the child restraint will be placed.
Do not secure a child restraint in a position without a top tether anchor if a national or local law requires that the top tether be attached, or if the instructions that come with the child restraint say that the top tether must be attached.
According to accident statistics, children and infants are safer when properly restrained in a child restraint system or infant restraint system secured in a rear seating position. See Where to Put the Restraint for additional information.
See also:
Services for People with Disabilities
Advisors provide services to help subscribers with physical disabilities and medical conditions. Push for help with: - Locating a gas station with an attendant to pump gas. - Finding a hotel ...
Storing Memory Positions
To save into memory: 1. Adjust the driver seat, including the seatback recliner and lumbar, both outside mirrors, power steering column, and the throttle and brake pedals. See Power Mirrors ...
Trailer Towing
If the vehicle is a hybrid, see the hybrid supplement for more information. Do not tow a trailer during break-in. See New Vehicle Break-In for more information. WARNING The drive ...