Head Restraint Removal and Reinstallation
The rear outboard head restraints can be removed if they interfere with the proper installation of the child restraint. The headrest in the rear center seating position is not removable and should be lowered to the stowed position for child restraint installation.
To remove the head restraint:
1. Partially fold the seatback forward. See Rear Seats for additional information.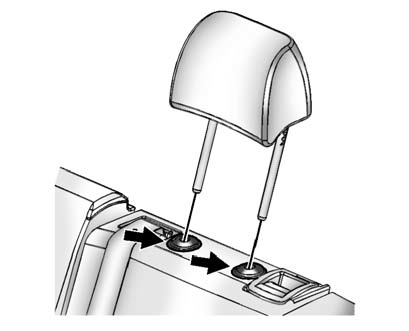 2. Press both buttons on the head restraint posts at the same time, and pull up on the head restraint.
3. Store the head restraint in the cargo area of the vehicle.
4. When the child restraint is removed, reinstall the head restraint before the seating position is used.
WARNING
With head restraints that are not installed and adjusted properly, there is a greater chance that occupants will suffer a neck/spinal injury in a crash.
Do not drive until the head restraints for all occupants are installed and adjusted properly.
To reinstall the head restraint: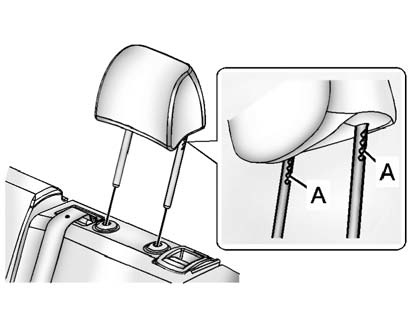 1. Insert the head restraint posts into the holes in the top of the seatback. The notches (A) on the posts must face the driver side of the vehicle.
2. Push the head restraint down.
If necessary, press the height adjustment release button to further lower the head restraint.
See Head Restraints.
3. Try to move the head restraint to make sure that it is locked in place.
See also:
Convex Mirrors
CAUTION! A convex mirror can make things, like other vehicles, look farther away than they really are. If you cut too sharply into the right lane, you could hit a vehicle on the right. Chec ...
How to Reset the Engine Oil Life System
Reset the system whenever the engine oil is changed so that the system can calculate the next engine oil change. To reset the system: 1. Using the DIC MENU button and thumbwheel on the turn signal ...
Storing a Flat or Spare Tire and Tools
WARNING! Storing a jack, a tire, or other equipment in the passenger compartment of the vehicle could cause injury. In a sudden stop or collision, loose equipment could strike someone. Stor ...