Headphones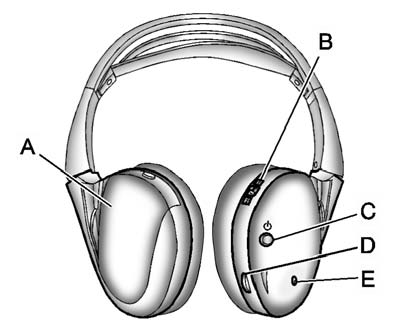 A. Battery cover
B. Channel 1 or 2 switch
C. Power button
D. Volume control
E. Power indicator light
RSE includes two 2-channel wireless headphones. Channel 1 is dedicated to the DVD player, and Channel 2 is dedicated to RSA selections. The headphones are used to listen to various multi—media. If the vehicle is not equipped with RSA, then Channel 2 is dedicated to any external auxiliary device connected to the rear A/V jacks. The wireless headphones have a power button, Channel 1 or 2 switch, and a volume control. Turn the headphones off when not in use.
Push the power button to turn on the headphones. A light on the headphones comes on. If the light does not come on, check the batteries. Intermittent sound or static can also indicate weak batteries.
See "Battery Replacement" later in this section for more information.
Infrared transmitters are on the top of the left seatback video screen. The headphones shut off automatically to save the battery power if the RSE system and RSA are shut off or if the headphones are out of range of the transmitters for more than three minutes. Moving too far forward or stepping out of the vehicle can cause the headphones to lose the signal or have static.
To adjust the volume on the headphones, use the volume control.
For best audio performance, the headphones must be worn correctly, with the headband over the top of the head. L (Left) and R (Right) are above the ear pads and are indicators as to how the headphones should be placed on the head.
Notice: Do not store the headphones in heat or direct sunlight. This could damage the headphones and repairs will not be covered by the warranty.
Storage in extreme cold can weaken the batteries. Keep the headphones stored in a cool, dry place.
If the foam ear pads attached to the headphones become worn or damaged, the pads can be replaced separately from the headphone set.
To purchase replacement ear pads, call 1—888—293—3332, then prompt zero (0), or contact your dealer.
See also:
Express Window Anti-Pinch Feature
If any object is in the path of the window when the express-up is active, the window will stop at the obstruction and auto-reverse to a preset factory position. Weather conditions such as severe i ...
Compass Calibration
The compass can be manually calibrated. Only calibrate the compass in a magnetically clean and safe location, such as an open parking lot, where driving the vehicle in circles is not a dange ...
California Perchlorate Materials Requirements
Certain types of automotive applications, such as airbag initiators, safety belt pretensioners, and lithium batteries contained in Remote Keyless Entry transmitters, may contain perchlorate materi ...