Maintenance
Passenger Compartment Air Filter
The filter removes dust, pollen, and other airborne irritants from outside air that is pulled into the vehicle.
The filter should be replaced as part of routine scheduled maintenance, see Maintenance Schedule. To find out what type of filter to use, see Maintenance Replacement Parts.
1. Open the glove box completely and remove the four screws along the upper portion of the glove box.
2. When released, lower the upper portion of the glove box.
3. Locate the service door for the passenger compartment air filter.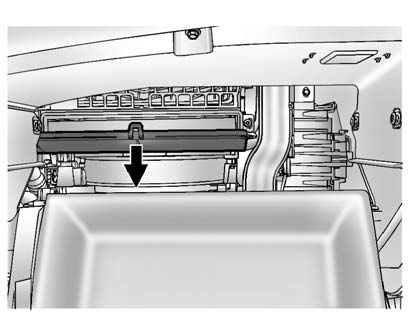 4. Release the two latches holding the service door. Lower the service door.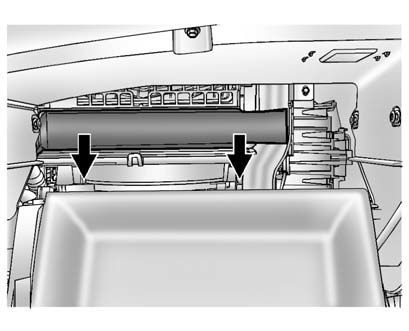 5. Remove the old air filter.
6. Install the new air filter.
7. Close the service door and latches.
8. Reinstall the upper portion of the glove box.
See your dealer if additional assistance is needed.
See also:
Heated and Ventilated Front Seats
WARNING If you cannot feel temperature change or pain to the skin, the seat heater may cause burns even at low temperatures. To reduce the risk of burns, people with such a condition should ...
Infotainment
Read the following pages to become familiar with the audio system's features. WARNING Taking your eyes off the road for extended periods could cause a crash resulting in injury or death to you ...
Different Size Tires and Wheels
If wheels or tires are installed that are a different size than the original equipment wheels and tires, vehicle performance, including its braking, ride and handling characteristics, stability, a ...