Maintenance
Passenger Compartment Air Filter
The filter removes dust, pollen, and other airborne irritants from outside air that is pulled into the vehicle.
The filter should be replaced as part of routine scheduled maintenance, see Maintenance Schedule. To find out what type of filter to use, see Maintenance Replacement Parts.
1. Open the glove box completely and remove the four screws along the upper portion of the glove box.
2. When released, lower the upper portion of the glove box.
3. Locate the service door for the passenger compartment air filter.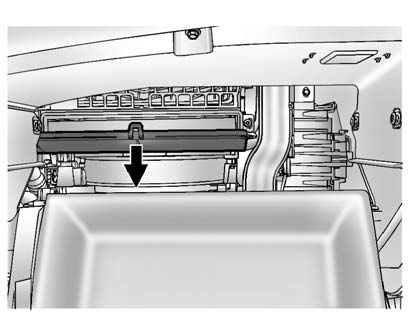 4. Release the two latches holding the service door. Lower the service door.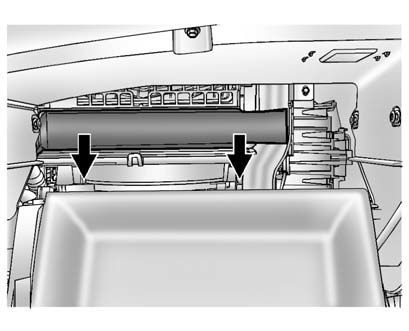 5. Remove the old air filter.
6. Install the new air filter.
7. Close the service door and latches.
8. Reinstall the upper portion of the glove box.
See your dealer if additional assistance is needed.
See also:
Safety Chains
Always attach chains between the vehicle and the trailer. Cross the safety chains under the tongue of the trailer to help prevent the tongue from contacting the road if it becomes separated ...
Battery Replacement
To change the remote control batteries: 1. Slide the rear cover back on the remote control. 2. Replace the two batteries in the compartment. Make sure they are installed correctly using the diagra ...
Exterior Lighting
The exterior lamps control is located on the instrument panel to the left of the steering column. The exterior lamps control has four positions: : Briefly turn to this position to turn the ...