Engine Compartment Overview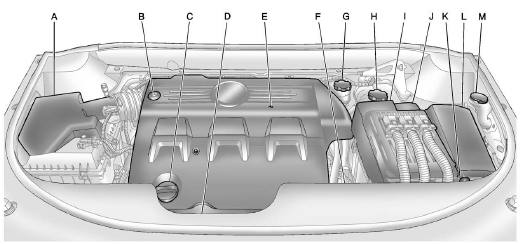 A. Engine Air Cleaner/Filter.
B. Power Steering Reservoir and Cap (Under Engine Cover).
See Power Steering Fluid.
C. Engine Oil Fill Cap. See Engine Oil.
D. Engine Oil Dipstick (Out of View). See Engine Oil.
E. Engine Cover.
F. Transmission Fluid Cap and Dipstick (Out of View).
See Automatic Transmission Fluid.
G. Brake Master Cylinder Reservoir. See Brakes.
H. Engine Coolant Surge Tank and Pressure Cap. See Engine Coolant.
I. Battery (Out of View).
See Battery.
J. Remote Positive (+) Terminal.
See Jump Starting.
K. Remote Negative (−) Terminal (Out of View). See Jump Starting.
L. Engine Compartment Fuse Block.
M. Windshield Washer Fluid Reservoir. See Washer Fluid.
See also:
Short Take: Cadillac CTS Sport Wagon
When the national dalliance with SUVs seemed to put the entire country in a knobby-tired trance, we muttered to ourselves: Why would anyone want to ruin a perfectly good wagon by giving it a high ...
Steering in Emergencies
There are some situations when steering around a problem may be more effective than braking. Holding both sides of the steering wheel allows you to turn 180 degrees without removing a hand. ...
Floor Mats
WARNING If a floor mat is the wrong size or is not properly installed, it can interfere with the pedals. Interference with the pedals can cause unintended acceleration and/or increased stopping d ...