Engine Compartment Overview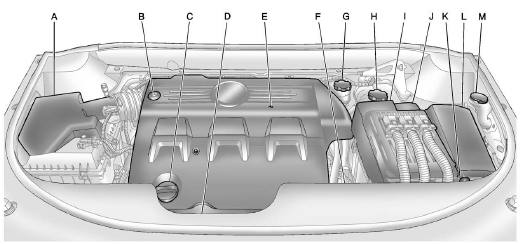 A. Engine Air Cleaner/Filter.
B. Power Steering Reservoir and Cap (Under Engine Cover).
See Power Steering Fluid.
C. Engine Oil Fill Cap. See Engine Oil.
D. Engine Oil Dipstick (Out of View). See Engine Oil.
E. Engine Cover.
F. Transmission Fluid Cap and Dipstick (Out of View).
See Automatic Transmission Fluid.
G. Brake Master Cylinder Reservoir. See Brakes.
H. Engine Coolant Surge Tank and Pressure Cap. See Engine Coolant.
I. Battery (Out of View).
See Battery.
J. Remote Positive (+) Terminal.
See Jump Starting.
K. Remote Negative (−) Terminal (Out of View). See Jump Starting.
L. Engine Compartment Fuse Block.
M. Windshield Washer Fluid Reservoir. See Washer Fluid.
See also:
Muting a Call
During a call, all sounds from inside the vehicle can be muted so that the person on the other end of the call cannot hear them. To mute a call, press , and then say "Mute Call." To cancel mute, ...
Park Tilt Mirrors
If the vehicle has the memory package, the passenger and/or driver mirror tilts to a preselected position when the vehicle is in R (Reverse). This feature lets the driver view the curb when parall ...
TPMS Sensor Matching Process
Each TPMS sensor has a unique identification code. The identification code needs to be matched to a new tire/wheel position after rotating the vehicle's tires or replacing one or more of the TPMS se ...