Dinghy Towing
Front-wheel—drive and all-wheel-drive vehicles may be dinghy towed from the front.
These vehicles can also be towed by placing them on a platform trailer with all four wheels off of the ground. For other towing options, see "Dolly Towing" following in this section.
Notice: If 105 km/h (65 mph) is exceeded while towing the vehicle, it could be damaged.
Never exceed 105 km/h (65 mph) while towing the vehicle.
For vehicles being dinghy towed, the vehicle should be run at the beginning of each day and at each RV fuel stop for about five minutes.
This will ensure proper lubrication of transmission components.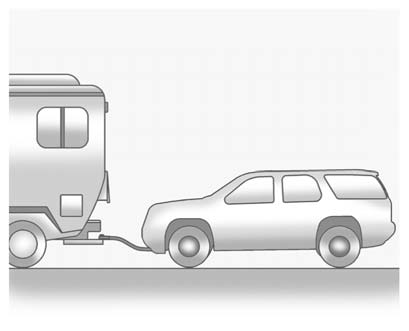 To tow the vehicle from the front with all four wheels on the ground:
1. Position the vehicle that will be towed and secure it to the towing vehicle.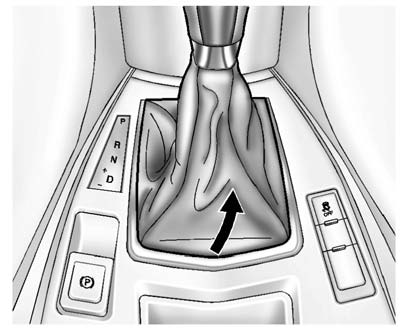 2. Remove the shift lever boot by pulling up on the rear of the trim plate.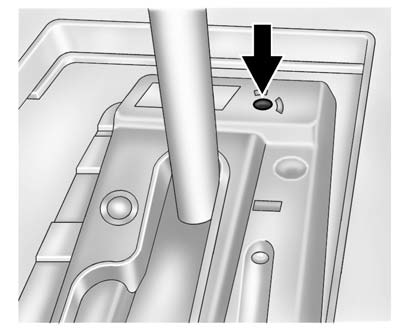 3. Use a small screw driver or tool to press and hold the manual release button on the front right.
4. Put the vehicle in N (Neutral).
Notice: If the vehicle is towed without performing each of the steps listed under "Dinghy Towing," the automatic transmission could be damaged.
Be sure to follow all steps of the dinghy towing procedure prior to and after towing the vehicle.
Once the destination has been reached:
1. Shift the vehicle to P (Park).
2. Reinstall the shift lever boot by inserting the front edge and pressing the rear of the trim plate until it snaps into place.
3. Start the engine and let it idle for more than three minutes before driving the vehicle.
Notice: Too much or too little fluid can damage the transmission. Be sure that the transmission fluid is at the proper level before towing with all four wheels on the ground.
Notice: Do not tow a vehicle with the front drive wheels on the ground if one of the front tires is a compact spare tire. Towing with two different tire sizes on the front of the vehicle can cause severe damage to the transmission.
See also:
Doing Your Own Service Work
If the vehicle is a hybrid, see the hybrid supplement for more information. WARNING It can be dangerous to work on your vehicle if you do not have the proper knowledge, service manual, tools, ...
Conference Calling
Conference calling and three—way calling must be supported on the Bluetooth phone and enabled by the wireless service carrier to work. To start a conference while in a current call: 1. Turn or ...
Loss of Control
Skidding There are three types of skids that correspond to the vehicle's three control systems: - Braking Skid — wheels are not rolling. - Steering or Cornering Skid — too much speed or s ...