Safety Locks
The vehicle has rear door security locks to prevent passengers from opening the rear doors from the inside.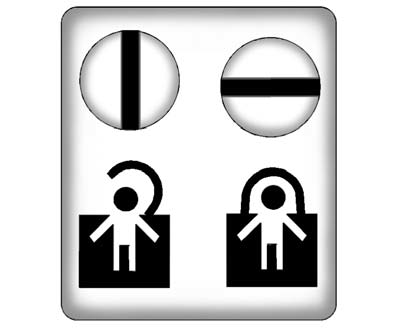 Open the rear doors to access the security locks on the inside edge of each door.
To set the locks, insert a key into the slot and turn it to the horizontal position. The door can only be opened from the outside with the door unlocked. To return the door to normal operation, turn the slot to the vertical position.
See also:
Memory Features
On vehicles with the memory package, memory buttons 1 and 2 on the driver door are used to save and recall memory settings for the driver seat cushion and seatback, outside mirrors, and th ...
Problems with Route Guidance
Inappropriate route guidance may occur under one or more of the following conditions: You have not turned onto the road indicated. Route guidance may not be available when using automatic rerout ...
Cadillac Technician Roadside Service (U.S. Only)
Cadillac's exceptional Roadside Service is more than an auto club or towing service. It provides every Cadillac owner in the United States with the advantage of contacting a Cadillac advisor ...