Installing the Crossrails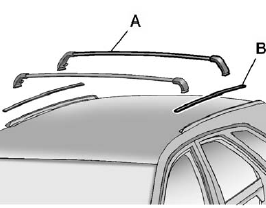 A. Crossrails
B. Siderail Cover
Before installing the crossrails (A), remove the siderail covers (B). Pull straight up on the rear of the siderail cover. Store covers flat, do not stack items on them.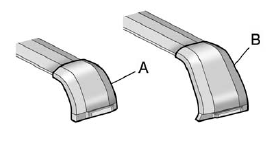 1. Identify the front and rear crossrail.
2. The front crossrail (A) is smaller than the rear crossrail (B).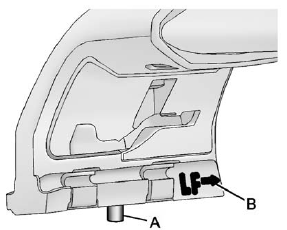 3. The crossrail supports are labeled with an arrow (B) that needs to point toward the front of the vehicle. A pin (A) will be visible on the bottom when the crossrail support lever is down.
To install the crossrail support, move the lever into the forward upper position; the pin (A) will not be visible.

4. Locate the forward or rearward cut-out in the siderail channel.
5. Insert both crossrail ends into the cut-outs, making sure the arrows are pointed toward the front of the vehicle.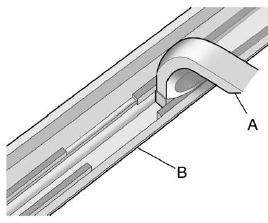 6. Levers must still be in the forward up position. Move the front crossrail forward beyond the cut-out area (B). For the rear crossrail, slide the crossrail assembly (A) rearward until the entire crossrail support is in first position beyond the channel cut-out area (B).
7. Move the levers on both crossrails to the down position.
Slide the crossrail until the crossrail pin engages.
8. The crossrails should lock in the same hole position on each side.
See also:
Manual Liftgate Operation
To unlock the liftgate, press on the power door lock switch or press on the Remote Keyless Entry (RKE) transmittertwice, see Remote Keyless Entry (RKE) System Operation . Press the touc ...
Contacting Roadside Assistance
Roadside Assistance services are of no cost to you and available 24 hours a day, 365 days a year. Costs are only incurred in situations that exceed the limits of the program, some of which ar ...
Windows
WARNING Leaving children, helpless adults, or pets in a vehicle with the windows closed is dangerous. They can be overcome by the extreme heat and suffer permanent injuries or even death fro ...