Installing the Crossrails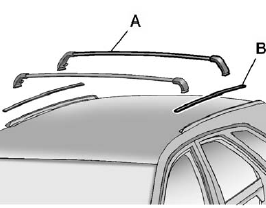 A. Crossrails
B. Siderail Cover
Before installing the crossrails (A), remove the siderail covers (B). Pull straight up on the rear of the siderail cover. Store covers flat, do not stack items on them.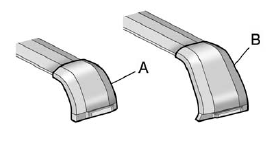 1. Identify the front and rear crossrail.
2. The front crossrail (A) is smaller than the rear crossrail (B).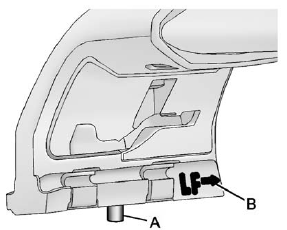 3. The crossrail supports are labeled with an arrow (B) that needs to point toward the front of the vehicle. A pin (A) will be visible on the bottom when the crossrail support lever is down.
To install the crossrail support, move the lever into the forward upper position; the pin (A) will not be visible.

4. Locate the forward or rearward cut-out in the siderail channel.
5. Insert both crossrail ends into the cut-outs, making sure the arrows are pointed toward the front of the vehicle.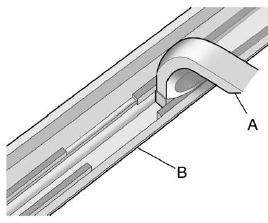 6. Levers must still be in the forward up position. Move the front crossrail forward beyond the cut-out area (B). For the rear crossrail, slide the crossrail assembly (A) rearward until the entire crossrail support is in first position beyond the channel cut-out area (B).
7. Move the levers on both crossrails to the down position.
Slide the crossrail until the crossrail pin engages.
8. The crossrails should lock in the same hole position on each side.
See also:
LEARN DELAY ACTIVE WAIT XX MIN (MINUTES)
If the vehicle has the keyless access system, this message displays when matching new transmitters to the vehicle. See the Keyless Access information for Remote Keyless Entry (RKE) System O ...
Fuel Used
The Fuel Used display shows the approximate liters (L) or gallons (gal) of fuel that have been used since last reset. The fuel used can be reset by pressing the SET/CLR button while the Fuel Used ...
Continuous Damping Control (CDC)
This vehicle may have a continuous damping control system called Autoride® or MagneRide™. With this feature, improved vehicle ride and handling is provided under a variety of passenger and loading ...