Installing the Crossrails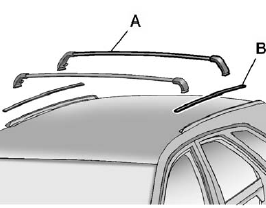 A. Crossrails
B. Siderail Cover
Before installing the crossrails (A), remove the siderail covers (B). Pull straight up on the rear of the siderail cover. Store covers flat, do not stack items on them.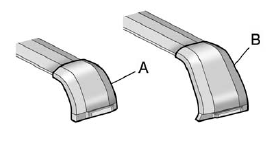 1. Identify the front and rear crossrail.
2. The front crossrail (A) is smaller than the rear crossrail (B).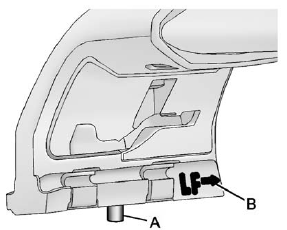 3. The crossrail supports are labeled with an arrow (B) that needs to point toward the front of the vehicle. A pin (A) will be visible on the bottom when the crossrail support lever is down.
To install the crossrail support, move the lever into the forward upper position; the pin (A) will not be visible.

4. Locate the forward or rearward cut-out in the siderail channel.
5. Insert both crossrail ends into the cut-outs, making sure the arrows are pointed toward the front of the vehicle.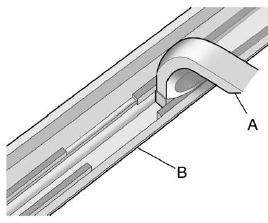 6. Levers must still be in the forward up position. Move the front crossrail forward beyond the cut-out area (B). For the rear crossrail, slide the crossrail assembly (A) rearward until the entire crossrail support is in first position beyond the channel cut-out area (B).
7. Move the levers on both crossrails to the down position.
Slide the crossrail until the crossrail pin engages.
8. The crossrails should lock in the same hole position on each side.
See also:
Keyless Liftgate Opening
Press the touch pad on the liftgate handle to open the liftgate if the keyless entry transmitter is within range. ...
Engine Oil Messages
CHANGE ENGINE OIL SOON This message displays when the engine oil needs to be changed. When you change the engine oil, be sure to reset the CHANGE ENGINE OIL SOON message. See Engine Oil Life Syst ...
Root Directory
The root directory is treated as a folder. If the root directory has compressed audio files, the directory displays as No Folder or ALL. ...