XM Tune Select (If Equipped)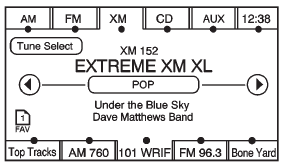 While the XM audio screen is displaying and a song is being listened to, press Tune Select to save that particular song.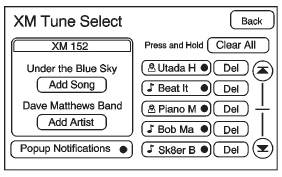 The XM Tune Select menu displays with options to store by the song title or the artist's name. Up to 10 favorites by song title or artist can be saved.
Add Song: Press to save the song that is currently playing by the song title.
Add Artist: Press to save the song that is currently playing by the artist's name.
Clear All: Press and Hold the Clear All screen button to clear the stored favorite songs.
Del: Press the Del screen button to del the song that is associated to that button.
Popup Notifications: Once a song or songs are stored, a notification popup alerts the listener if a stored song is playing. Press to turn notification on or off.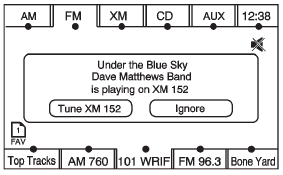 While a notification popup alert screen displays, press the screen button showing the station or press Ignore.
See also:
Drunk Driving
Death and injury associated with drinking and driving is a global tragedy. WARNING! Drinking and then driving is very dangerous. Your reflexes, perceptions, attentiveness, and judgment can ...
Backing Up
Hold the bottom of the steering wheel with one hand. Then, to move the trailer to the left, move that hand to the left. To move the trailer to the right, move your hand to the right. Always back u ...
Keyless Locking
If the vehicle has the keyless access system, this feature allows you to select whether the doors automatically lock during normal vehicle exit. When the ignition is turned off and all doors ...