Climate Controls
The heating, cooling, and ventilation for the vehicle can be controlled with this system.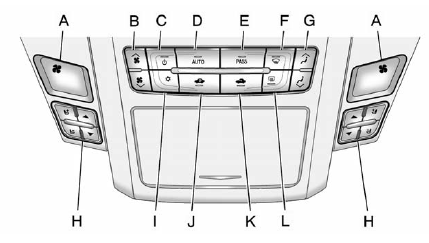 A. Display
B. Fan
C. Power
D. AUTO (Automatic Operation)
E. PASS (Passenger Climate Control)
F. Defrost
G. Air Delivery Mode
H. Temperature and Heated/Ventilated Seat
I. Air Conditioning
J. Recirculation
K. Outside Air
L. Rear Window Defogger
See Dual Automatic Climate Control System.
See also:
Windshield Wipers
If the wiper motor overheats due to heavy snow or ice, the windshield wipers will stop until the motor cools and will then restart. Although the circuit is protected from electrical overload, overl ...
Extending Engine Run Time
To extend the engine run time by 10 minutes, repeat Steps 1 and 2 while the engine is still running. The engine run time can only be extended if it is the first remote start since the vehicle ...
Services for People with Disabilities
Advisors provide services to help subscribers with physical disabilities and medical conditions. Push for help with: - Locating a gas station with an attendant to pump gas. - Finding a hotel ...