Battery Replacement
Replace the battery if the REPLACE BATTERY IN REMOTE KEY message displays in the DIC.
See "Replace Battery In Remote Key" under Key and Lock Messages for additional information.
Notice: When replacing the battery, do not touch any of the circuitry on the transmitter.
Static from your body could damage the transmitter.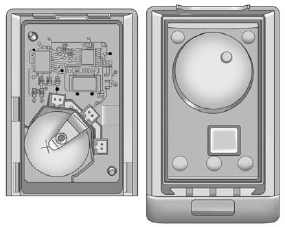 To replace the battery:
1. Separate the transmitter with a flat, thin object inserted into the notch, located above the metal base.
2. Remove the old battery. Do not use a metal object.
3. Insert the new battery, positive side facing up. Replace with a CR2032 or equivalent battery.
4. Snap the transmitter back together.
See also:
Service Vehicle Messages
SERVICE A/C SYSTEM This message displays when the electronic sensors that control the air conditioning and heating systems are no longer working. Have the climate control system serviced by ...
Onstar.com
The website provides access to account information, manages the OnStar subscription, and allows viewing of videos of each service. Get subscription plan pricing and sign up for OnStar Vehicle ...
Vehicle Speakers
Audio from the DVD player or an auxiliary device can be heard through the vehicle speakers or the wireless/wired headphones, while the radio is tuned to one of the six frequencies selected on the ...