Door Locks (Coupe)
WARNING!
Unlocked doors can be dangerous.
- Passengers — especially children — can easily open the doors and fall out of a moving vehicle. When a door is locked it will not open.
You increase the chance of being thrown out of the vehicle in a crash if the doors are not locked. So, wear safety belts properly and lock the doors whenever you drive.
- Young children who get into unlocked vehicles may be unable to get out. A child can be overcome by extreme heat and can suffer permanent injuries or even death from heat stroke. Always lock your vehicle whenever you leave it.
- Outsiders can easily enter through an unlocked door when you slow down or stop your vehicle. Locking your doors can help prevent this from happening.
From the outside, press

or

on the Remote Keyless Entry transmitter (RKE).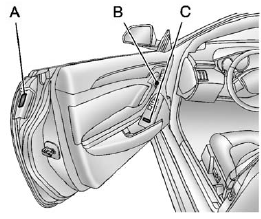 A. Door Handle Sensor
B. Door Latch Button
C. Power Door Lock Switch
With the RKE transmitter within range, grip the door handle sensor (A). See Remote Keyless Entry (RKE) System Operation (Keyless Access) or Remote Keyless Entry (RKE) System Operation (Key Access). When the passenger door is opened first, the driver door will also unlock.
From the inside, use the power door lock switch (C). See Power Door Locks.
To open a door from the inside, press the door latch button (B).
A tone will sound when the button is pressed.
If the vehicle has lost battery power, the driver door can be opened manually.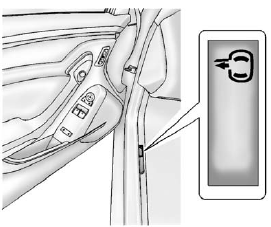 - From inside the vehicle, pull the manual door release handle.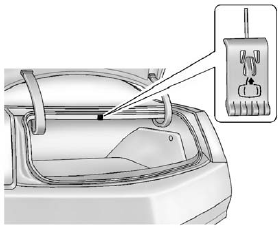 - From outside the vehicle, use the key to unlock the trunk.
Then, pull the door release tab, located under the package shelf at the top of the trunk, to unlock and unlatch the driver door.
See also:
Cupholders
There are cupholders in the front of the center console. Push the cover to open. There are also cupholders in the rear center armrest. Pull the armrest down to use. ...
Reporting Safety Defects to General Motors
In addition to notifying NHTSA (or Transport Canada) in a situation like this, notify General Motors. Call 1-800-458-8006, or write: Cadillac Customer Assistance Center Cadillac Motor Car Divi ...
Trailer Towing
Before pulling a trailer, there are three important considerations that have to do with weight: - The weight of the trailer - The weight of the trailer tongue - The total weight on the vehicle's ...