Safety Locks (Sedan and Wagon)
The vehicle has rear door security locks. These prevent passengers from opening the rear doors from the inside.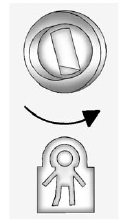 Lock Label shown
The rear door security locks are located on the inside edge of each rear door. The rear doors must be open to access them. The label showing lock and unlock positions is located near the lock.
To set the locks:
1. Insert the key into the security lock slot and turn it so the slot is in the horizontal position.
2. Close the door.
When you want to open a rear door when the security lock is on:
1. Unlock the door using the Remote Keyless Entry (RKE) or Keyless Access System transmitter, if the vehicle has one, the power door lock switch, or the rear door manual lock.
2. Open the door from the outside.
To cancel the rear door security lock:
1. Unlock the door and open it from the outside.
2. Insert the key into the security lock slot and turn it so the slot is in the vertical position.
See also:
Engine Compartment Fuse Block (CTS Coupe and Sedan)
The underhood fuse block is located on the left side of the engine compartment. Lift the fuse block cover to access the fuses. The vehicle may not be equipped with all of the fuses and rel ...
SBZA Detection Zones
The SBZA sensor covers a zone of approximately one lane over from both sides of the vehicle, 3.5m (11 ft). This zone starts at each side mirror and goes back approximately 5.0m(16 ft). The heigh ...
Vehicle Personalization
The audio system controls are used to access the personalization menus for customizing vehicle features. Not all features are available on every vehicle. Only the features available on a particula ...