Safety Locks (Sedan and Wagon)
The vehicle has rear door security locks. These prevent passengers from opening the rear doors from the inside.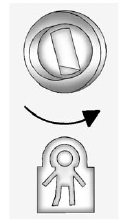 Lock Label shown
The rear door security locks are located on the inside edge of each rear door. The rear doors must be open to access them. The label showing lock and unlock positions is located near the lock.
To set the locks:
1. Insert the key into the security lock slot and turn it so the slot is in the horizontal position.
2. Close the door.
When you want to open a rear door when the security lock is on:
1. Unlock the door using the Remote Keyless Entry (RKE) or Keyless Access System transmitter, if the vehicle has one, the power door lock switch, or the rear door manual lock.
2. Open the door from the outside.
To cancel the rear door security lock:
1. Unlock the door and open it from the outside.
2. Insert the key into the security lock slot and turn it so the slot is in the vertical position.
See also:
Design
Cadillac CTS Coupe emerged as a proposal inside Cadillac's design studio, where designers have developed and evolved the brand's Art and Science design philosophy. "Cadillac has always been ...
TPMS Sensor Matching Process
Each TPMS sensor has a unique identification code. The identification code needs to be matched to a new tire/wheel position after rotating the vehicle's tires or replacing one or more of the ...
Shoulder Belt Height Adjuster
The vehicle has a shoulder belt height adjuster for the driver and right front passenger seating positions. Adjust the height so that the shoulder portion of the belt is on the shoulder and not f ...