Safety Locks (Sedan and Wagon)
The vehicle has rear door security locks. These prevent passengers from opening the rear doors from the inside.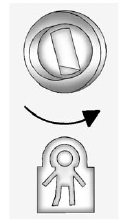 Lock Label shown
The rear door security locks are located on the inside edge of each rear door. The rear doors must be open to access them. The label showing lock and unlock positions is located near the lock.
To set the locks:
1. Insert the key into the security lock slot and turn it so the slot is in the horizontal position.
2. Close the door.
When you want to open a rear door when the security lock is on:
1. Unlock the door using the Remote Keyless Entry (RKE) or Keyless Access System transmitter, if the vehicle has one, the power door lock switch, or the rear door manual lock.
2. Open the door from the outside.
To cancel the rear door security lock:
1. Unlock the door and open it from the outside.
2. Insert the key into the security lock slot and turn it so the slot is in the vertical position.
See also:
Order of Play
Tracks recorded to the CD-R or CD-RW play in the following order: - Play begins from the first track in the first folder and continues sequentially through all tracks in each folder. When the ...
Trunk (Sedan, Coupe)
WARNING! Exhaust gases can enter the vehicle if it is driven with the liftgate or trunk/hatch open, or with any objects that pass through the seal between the body and the trunk/hatch or ...
Recommended Fluids, Lubricants, and Parts
Recommended Fluids and Lubricants Maintenance Replacement Parts Replacement parts identified below by name, part number, or specification can be obtained from your dealer. ...