Safety Locks (Sedan and Wagon)
The vehicle has rear door security locks. These prevent passengers from opening the rear doors from the inside.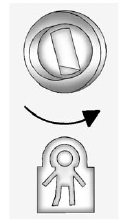 Lock Label shown
The rear door security locks are located on the inside edge of each rear door. The rear doors must be open to access them. The label showing lock and unlock positions is located near the lock.
To set the locks:
1. Insert the key into the security lock slot and turn it so the slot is in the horizontal position.
2. Close the door.
When you want to open a rear door when the security lock is on:
1. Unlock the door using the Remote Keyless Entry (RKE) or Keyless Access System transmitter, if the vehicle has one, the power door lock switch, or the rear door manual lock.
2. Open the door from the outside.
To cancel the rear door security lock:
1. Unlock the door and open it from the outside.
2. Insert the key into the security lock slot and turn it so the slot is in the vertical position.
See also:
Secondary Latch System
This vehicle has an underbody-mounted tire hoist assembly equipped with a secondary latch system. It is designed to stop the spare tire from suddenly falling off your vehicle. For the secondary la ...
No Folder
When the CD contains only compressed files, the files are located under the root folder. The next and previous folder functions do not display on a CD that was recorded without folders or p ...
Storing a Flat or Spare Tire and Tools
Storing a jack, a tire, or other equipment in the passenger compartment of the vehicle could cause injury. In a sudden stop or collision, loose equipment could strike someone. Store all these in t ...