Rear Window Wiper/Washer
For vehicles with a rear window wiper/washer, the controls are on the end of the windshield wiper lever.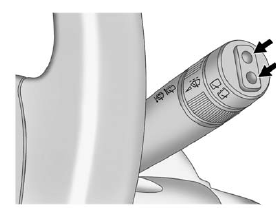 Press the upper or lower portion of the button to control the rear wiper and rear wiper delay.
The system turns off when the button is returned to the middle position.

(Rear Wiper Delay Short):
Sets a five–second delay between wipes.

(Rear Wiper Delay Long): Sets a 10–second delay between wipes.

(Rear Washer): Push the windshield wiper lever forward to spray washer fluid on the rear window. The lever returns to its starting position when released.
The windshield washer reservoir is used for the windshield and the rear window. Check the fluid level in the reservoir if either washer is not working. See Washer Fluid.
See also:
Dual Tone Multi-Frequency (DTMF) Tones
The Bluetooth system can send numbers and the numbers stored as name tags during a call. You can use this feature when calling a menu-driven phone system. Account numbers can also be stored ...
Wheel Replacement
Replace any wheel that is bent, cracked, or badly rusted or corroded. If wheel nuts keep coming loose, the wheel, wheel bolts, and wheel nuts should be replaced. If the wheel leaks air, repla ...
Pulling a Trailer
Here are some important points: - There are many laws, including speed limit restrictions that apply to trailering. Check for legal requirements. - Do not tow a trailer at all during the first ...