Rear Window Wiper/Washer
For vehicles with a rear window wiper/washer, the controls are on the end of the windshield wiper lever.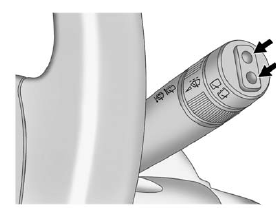 Press the upper or lower portion of the button to control the rear wiper and rear wiper delay.
The system turns off when the button is returned to the middle position.

(Rear Wiper Delay Short):
Sets a five–second delay between wipes.

(Rear Wiper Delay Long): Sets a 10–second delay between wipes.

(Rear Washer): Push the windshield wiper lever forward to spray washer fluid on the rear window. The lever returns to its starting position when released.
The windshield washer reservoir is used for the windshield and the rear window. Check the fluid level in the reservoir if either washer is not working. See Washer Fluid.
See also:
Resetting the Power Folding Mirrors
Reset the power folding mirrors if: The mirrors are accidentally obstructed while folding. They are accidentally manually folded/unfolded. The mirrors will not stay in the unfolded position. ...
Tire Pressure Monitor
This vehicle may have a Tire Pressure Monitor System (TPMS). The TPMS warning light alerts you to a significant loss in pressure of one of the vehicle's tires. If the warning light comes on, ...
Resuming a Set Speed
If the cruise control is set at a desired speed and then the brakes are applied, the cruise control is disengaged without erasing the set speed from memory. Once the vehicle is driving at abo ...