Headlamp Washer
For vehicles with headlamp washers they clear debris from the headlamp lenses.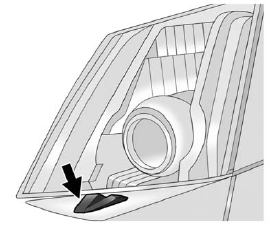 The headlamp washers are beneath the headlamps.
Press the washer button at the end of the windshield wiper lever to wash the headlamps. Both the headlamps and the windshield will be washed. After the first wash, the headlamps will not be washed until the fifth press of the windshield washer button.
The headlamps must be on to be washed. If the headlamps are off, only the windshield will be washed when the washer button is pressed.
If the washer fluid is low, the headlamp washers will not work.
See Windshield Wiper/Washer for more information.
See also:
Weatherstrips
Apply silicone grease on weatherstrips to make them last longer, seal better, and not stick or squeak. See Recommended Fluids and Lubricants . ...
Disc Messages
DISC ERROR: If this message displays and/or the disc ejects, it could be for one of the following reasons: - The radio system does not support the playlist format, the compressed audio form ...
Wood Panels
Use a clean cloth moistened in warm, soapy water (use mild dish washing soap). Dry the wood immediately with a clean cloth. Keep belts clean and dry. WARNING Do not bleach or dye safety belts ...