Headlamp Washer
For vehicles with headlamp washers they clear debris from the headlamp lenses.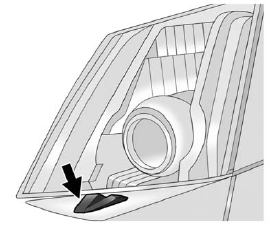 The headlamp washers are beneath the headlamps.
Press the washer button at the end of the windshield wiper lever to wash the headlamps. Both the headlamps and the windshield will be washed. After the first wash, the headlamps will not be washed until the fifth press of the windshield washer button.
The headlamps must be on to be washed. If the headlamps are off, only the windshield will be washed when the washer button is pressed.
If the washer fluid is low, the headlamp washers will not work.
See Windshield Wiper/Washer for more information.
See also:
Keyless Locking
The doors lock after several seconds if all doors are closed and at least one keyless access transmitter has been removed from the interior of the vehicle. To customize if the doors automat ...
Additional Factors Affecting System Operation
Safety belts help keep the passenger in position on the seat during vehicle maneuvers and braking, which helps the passenger sensing system maintain the passenger airbag status. See "Safety Belts" ...
Finish Care
Application of aftermarket clearcoat sealant/wax materials is not recommended. If painted surfaces are damaged, see your dealer to have the damage assessed and repaired. Foreign materials su ...