Headlamp Washer
For vehicles with headlamp washers they clear debris from the headlamp lenses.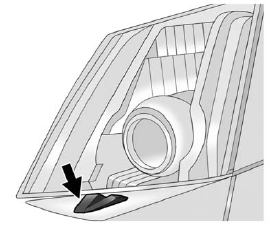 The headlamp washers are beneath the headlamps.
Press the washer button at the end of the windshield wiper lever to wash the headlamps. Both the headlamps and the windshield will be washed. After the first wash, the headlamps will not be washed until the fifth press of the windshield washer button.
The headlamps must be on to be washed. If the headlamps are off, only the windshield will be washed when the washer button is pressed.
If the washer fluid is low, the headlamp washers will not work.
See Windshield Wiper/Washer for more information.
See also:
Playing an MP3/WMA Disc
CD/DVD players with the MP3 feature are capable of playing an MP3/WMA on DVD+/−R, CD−R, or CD−RW discs. For more information, see MP3. ...
Cargo Cover
For vehicles with the dual position cargo cover, it can be used to cover items in the cargo area of the vehicle. The shade can be set in two positions. It can be set in a halfway open (A) pos ...
Removing the Flat Tire and Installing the Spare Tire
1. Do a safety check before proceeding. See If a Tire Goes Flat for more information. 2. To remove the center cap, place the chiseled end of the wheel wrench in the slot on the wheel ...