Headlamp Washer
For vehicles with headlamp washers they clear debris from the headlamp lenses.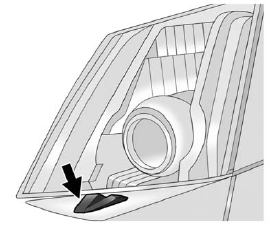 The headlamp washers are beneath the headlamps.
Press the washer button at the end of the windshield wiper lever to wash the headlamps. Both the headlamps and the windshield will be washed. After the first wash, the headlamps will not be washed until the fifth press of the windshield washer button.
The headlamps must be on to be washed. If the headlamps are off, only the windshield will be washed when the washer button is pressed.
If the washer fluid is low, the headlamp washers will not work.
See Windshield Wiper/Washer for more information.
See also:
Resetting the Power Folding Mirrors
Reset the power folding mirrors if: The mirrors are accidentally obstructed while folding. They are accidentally manually folded/unfolded. The mirrors will not stay in the unfolded position. ...
Safety System Check
Now and then, check that the safety belt reminder light, safety belts, buckles, latch plates, retractors, and anchorages are all working properly. Look for any other loose or damaged safety b ...
Replacing Brake System Parts
The braking system on a vehicle is complex. Its many parts have to be of top quality and work well together if the vehicle is to have really good braking. The vehicle was designed and tested with ...