Cruise Control
WARNING!
Cruise control can be dangerous where you cannot drive safely at a steady speed. So, do not use the cruise control on winding roads or in heavy traffic.
Cruise control can be dangerous on slippery roads. On such roads, fast changes in tire traction can cause excessive wheel slip, and you could lose control. Do not use cruise control on slippery roads.
With cruise control, a speed of about 40 km/h (25 mph) or more can be maintained without keeping your foot on the accelerator. Cruise control does not work at speeds below about 40 km/h (25 mph).
When the brakes are applied, the cruise control turns off.
If the vehicle has the Stabilitrak® system and begins to limit wheel spin while you are using cruise control, the cruise control will automatically disengage. See StabiliTrak® System.
When road conditions allow you to safely use it again, the cruise control can be turned back on.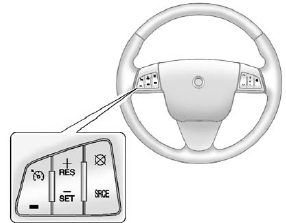 CTS Shown, CTS–V Similar
The cruise control buttons are located on the left side of the steering wheel.

(On/Off): Turns the system on or off. The indicator light on the button turns on when cruise control is on.
+RES (Resume/Accelerate):
Press briefly to make the vehicle resume to a previously set speed, or press and hold to accelerate.
−SET (Set/Coast): Press to set the speed and activate cruise control or make the vehicle decelerate.

(Cancel): Press to disengage cruise control without erasing the set speed from memory.
See also:
When to Change Engine Oil
This vehicle has a computer system that indicates when to change the engine oil and filter. This is based on a combination of factors which include engine revolutions, engine temperature, an ...
Map Coordinates
The coordinates destination entry method lets you select a destination by entering latitude and longitude coordinates. Map Coordinates: Press to access the Coordinates Entry screen. To use the c ...
Remote Door Unlock Feedback
This feature allows you to select the type of feedback you will receive when unlocking the vehicle with the Remote Keyless Entry (RKE) or keyless access transmitter, or when the vehicle is a ...