All-Wheel Drive
If your vehicle is equipped with all-wheel-drive, this is an additional system that needs lubrication.
Transfer Case
When to Check Lubricant
It is not necessary to regularly check the transfer case fluid unless you suspect there is a leak or you hear an unusual noise. A fluid loss could indicate a problem. Have it inspected and repaired.
How to Check Lubricant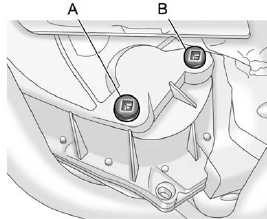 A. Drain Plug
B. Fill Plug
To get an accurate reading, the vehicle should be on a level surface.
If the level is below the bottom of the filler plug hole, located on the transfer case, you'll need to add some lubricant. Add enough lubricant to raise the level to the bottom of the filler plug hole.
Use care not to overtighten the plug.
What to Use
Refer to the Maintenance Schedule to determine what kind of lubricant to use. See Recommended Fluids and Lubricants.
See also:
Universal Remote System
The Universal Home Remote System allows for garage door openers, security systems, and home automation devices to be programmed to work with these buttons in the vehicle. See Universal Re ...
Ending Cruise Control
There are three ways to end cruise control: To disengage cruise control, step lightly on the brake pedal. Press on the steering wheel. To turn off the cruise control, press on the steering ...
Using the Uplevel RSE On-Screen Display (OSD) Menus
Use the OSD setup display menus for: . General Setup . Audio Setup . Quality Setup . Preference Setup To use the OSD menus while using the DVD player or an auxiliary device: 1. Press the SETUP b ...