All-Wheel Drive
If your vehicle is equipped with all-wheel-drive, this is an additional system that needs lubrication.
Transfer Case
When to Check Lubricant
It is not necessary to regularly check the transfer case fluid unless you suspect there is a leak or you hear an unusual noise. A fluid loss could indicate a problem. Have it inspected and repaired.
How to Check Lubricant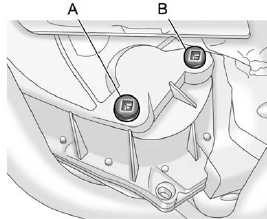 A. Drain Plug
B. Fill Plug
To get an accurate reading, the vehicle should be on a level surface.
If the level is below the bottom of the filler plug hole, located on the transfer case, you'll need to add some lubricant. Add enough lubricant to raise the level to the bottom of the filler plug hole.
Use care not to overtighten the plug.
What to Use
Refer to the Maintenance Schedule to determine what kind of lubricant to use. See Recommended Fluids and Lubricants.
See also:
SERVICE PARK BRAKE
For vehicles with the electric parking brake, this message displays if a problem is detected with the electric parking brake system. See your dealer for service. ...
Driving on Snow or Ice
Drive carefully when there is snow or ice between the tires and the road, creating less traction or grip. Wet ice can occur at about 0°C (32°F) when freezing rain begins to fall, resulting in ...
Auxiliary Devices (Radio with CD)
The optional AUX input allows portable devices to connect to the vehicle using the 3.5mm (1/8 in) input jack, the USB port, or Bluetooth® wireless technology, if equipped. Portable devices are co ...