Sedan or Coupe
To lower one or both of the rear seatbacks: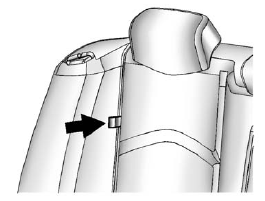 1. Pull forward on the tab, on the outboard side of the seatback, to unlock the seatback.
2. Fold the seatback down.
This allows access to the trunk.
See Trunk (Sedan, Coupe).
See also:
Tire Pressure
Tires need the correct amount of air pressure to operate effectively. Notice: Neither tire underinflation nor overinflation is good. Underinflated tires, or tires that do not have enough air, can ...
Exit Lighting
The interior lamps come on when the key is removed from the ignition. They turn off automatically in 20 seconds. The lights do not come on if the dome override button is pressed in. ...
Brakes
Brakes stop the vehicle and are crucial to safe driving. - Signs of brake wear may include chirping, grinding, or squealing noises, or difficulty stopping. - Trained dealer technicians have ...