Steering Wheel Adjustment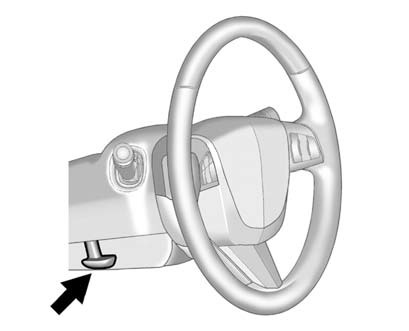 To adjust the steering wheel:
1. Pull the lever down.
2. Move the steering wheel up or down.
3. Pull or push the steering wheel closer or away from you.
4. Pull the lever up to lock the steering wheel in place.
Do not adjust the steering wheel while driving.
See also:
2013 Cadillac ATS Review
Topping out third gear I've got just enough time to think about grabbing fourth when the first braking marker is past my front tire and I'm pushing hard on the four piston Brembos. The lightest ca ...
Driving for Better Fuel Economy
Driving habits can affect fuel mileage. Here are some driving tips to get the best fuel economy possible. - Avoid fast starts and accelerate smoothly. - Brake gradually and avoid abrupt st ...
Vehicle Speed Messages
ICE POSSIBLE DRIVE WITH CARE This message displays when the outside temperature is cold enough to create icy road conditions. Adjust your driving accordingly. SPEED LIMITED TO XXX KM/H (MPH ...