Cargo Cover
For vehicles with the dual position cargo cover, it can be used to cover items in the cargo area of the vehicle.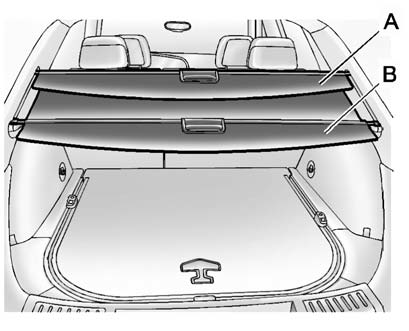 The shade can be set in two positions. It can be set in a halfway open (A) position for loading objects into the rear compartment, or the lower (B) position to conceal objects in the rear compartment.
See also:
All-Wheel-Drive Vehicles
Dinghy and Dolly Towing Notice: Towing an all-wheel-drive vehicle with all four wheels on the ground, or even with only two of its wheels on the ground, will damage drivetrain components. Do ...
Recreational Vehicle Towing
Recreational vehicle towing means towing the vehicle behind another vehicle – such as behind a motor home. The two most common types of recreational vehicle towing are known as dinghy towing and dol ...
Connecting and Controlling a USB Drive
The infotainment system can only play back .mp3 and .wma files from a USB drive. Only the first 10,000 songs are recognized on the device. When a device is not supported, the message "No suppor ...