Heated and Ventilated Seats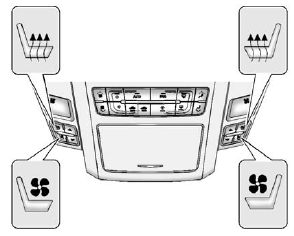 Heated and Ventilated Seat Buttons Shown, Heated Seat Buttons Similar
If available, the buttons are on the climate control panel. To operate, the ignition must be on.

: Press to heat the seat.

: If available, press to ventilate the seat.
Press the button once for the highest setting. With each press of the button, the seat will change to the next lower setting, and then to the off setting. The lights on the climate control display indicate three for the highest setting and one for the lowest.
See Heated and Ventilated Front Seats.