Cargo Management System (Wagon Only)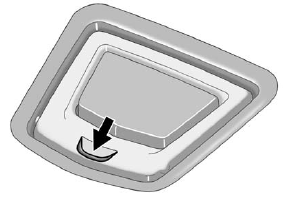 Press the bottom of the load floor handle assembly to lift the top on the handle. Pull up on the handle to open the cargo management system.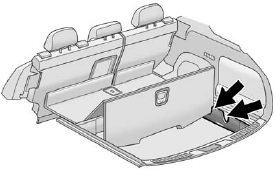 The cover can be opened to two positions to allow access to the storage area.
Some items may be stored in the cargo area when the cover is closed.
D-Ring Sliders
There are four D-Ring sliders that move along rails on both sides of the cargo management area.
These can be used as tie-downs when storing cargo.
Installing D-Ring Sliders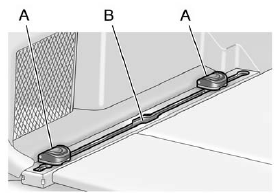 To install the D-Ring slider (A), insert it into the channel (B) located in the middle of each rail.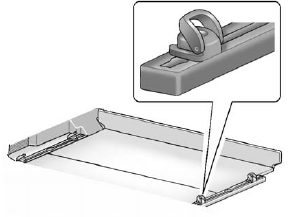 The loop of the D-Ring slider must be facing inward toward the storage area and the ring must be in the up position for proper usage.
Push the button to move the D-Ring slider. The rings can be locked into various positions along the rail.
See also:
Tips and Troubleshooting
IR Sensor Inoperative: Check that the batteries are good in the remote control. Check that the remote Control IR Sensor is not blocked. Aim the remote control toward the IR Sensor being controlled ...
Driving for Better Fuel Economy
Driving habits can affect fuel mileage. Here are some driving tips to get the best fuel economy possible. - Avoid fast starts and accelerate smoothly. - Brake gradually and avoid abrupt st ...
StabiliTrak® System
StabiliTrak assists with directional control of the vehicle in difficult driving conditions. The system turns on automatically every time the vehicle is started. - To turn off both traction ...