Cargo Management System (Wagon Only)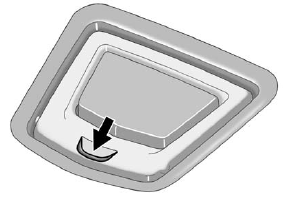 Press the bottom of the load floor handle assembly to lift the top on the handle. Pull up on the handle to open the cargo management system.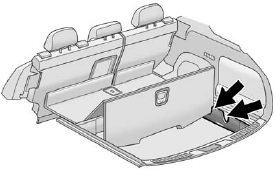 The cover can be opened to two positions to allow access to the storage area.
Some items may be stored in the cargo area when the cover is closed.
D-Ring Sliders
There are four D-Ring sliders that move along rails on both sides of the cargo management area.
These can be used as tie-downs when storing cargo.
Installing D-Ring Sliders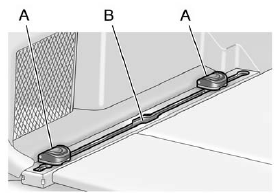 To install the D-Ring slider (A), insert it into the channel (B) located in the middle of each rail.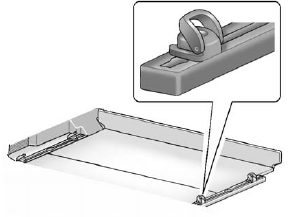 The loop of the D-Ring slider must be facing inward toward the storage area and the ring must be in the up position for proper usage.
Push the button to move the D-Ring slider. The rings can be locked into various positions along the rail.
See also:
Speaker Covers
Vacuum around a speaker cover gently, so that the speaker will not be damaged. Clean spots with just water and mild soap. ...
Passing Another Vehicle While Using Cruise Control
Use the accelerator pedal to increase the vehicle speed. When you take your foot off the pedal, the vehicle will slow down to the previous set cruise speed. ...
Fuel Additives
To provide cleaner air, all gasolines in the United States are now required to contain additives that help prevent engine and fuel system deposits from forming, allowing the emission control system ...